Industry Insights
Global neem extracts market is expected to witness growth on account of rising demand from various end-use industries including personal care, pharmaceutical, animal feed and agriculture. Furthermore, increasing consumer awareness about health benefits of neem, particularly in developed regions, is anticipated to boost neem extracts market over the forecast period.
Global Neem extracts revenue, by application, 2012 - 2020 (USD Million)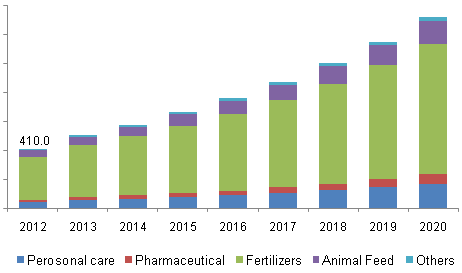 Usage of chemical pesticides and fertilizers in farming results in decreasing the quality of the produce and has harmful effects on the ecology. This makes neem-based fertilizer and pesticide ideal for farming. Hence, rising demand for bio-based fertilizers, pesticides and insecticides in developed and developing regions owing to the presence of stringent regulations implemented by various agencies is expected to fuel neem extracts market growth. In addition, neem extracts offer numerous medicinal benefits including reduced blood clotting, lowered blood pressure and cholesterol, eased palpitation and regulated digestion. These benefits of neem extracts are anticipated to augment its growth in the pharmaceutical sector over the projected period. Demand for neem and its extracts have been high in the European region owing to the presence of stringent regulations for the production of chemically harvested fruits and vegetables especially in countries such as Italy and Spain. However, notable demand-supply gap and high prices of neem products in the region is likely to hamper market growth.
Neem and its extracts are used extensively in the manufacture of high-quality herbal cosmetics and beauty products. Demand for these products has been increasing globally owing to their efficiency and zero side effects. Furthermore, leading herbal companies have been increasingly manufacturing products such as fairness creams, body lotions, hand creams using neem extracts to cope with growing demand for these products in the U.S. and the UK.
Application Insights
Bio-fertilizers were one of the largest application segments of neem extracts, and the trend is expected to continue account of supporting government regulations. These regulations restrict the use of chemical based fertilizers and pesticides owing to health hazards. This has resulted in forcing manufacturers shift towards manufacturing bio-based products. Personal care is likely to be one of the fastest growing application segments over the forecast period owing to increasing consumer demand for products derived from natural sources. Neem extracts are employed in a wide range of personal care products including toothpaste, shampoos, and conditioners on account of its medicinal properties and long-term benefits. Additionally, neem extracts are being increasingly employed in pharmaceuticals due to its antimicrobial, antioxidant and anti-inflammatory properties. These benefits are likely to augment the neem extracts market demand over the next six years.
Regional Insights
Asia Pacific was one of the largest neem extracts market owing to favorable climatic conditions, availability of raw material and dominant agriculture activities in the region. Lack of availability of raw materials in developed regions such as North America and Europe is likely to be a major restraint for neem extracts market. In addition, neem extracts market in developed countries is highly challenged due to lack of quality raw material in demanded quantities. Owing to high supply-demand gap, prices of neem extracts are highly volatile thereby affecting market growth. Furthermore, lack of advanced technology with companies engaged in neem extraction is likely to affect market demand over the next few years.
Competitive Insights
Global neem extracts market is highly fragmented owing to increased penetration of small scale companies scattered across the world, especially in the Asia-Pacific region. The low manufacturing cost of neem extracts, increasing application scope across numerous industries and favorable climatic conditions for the production of neem in China and India have forced market participants to eye Asia Pacific as a production hub for neem extracts. Key market participants include Agro Extracts Limited, E.I.D. Parry, PJ Margo, Fortune Biotech, Ozone Biotech, Nikita Agro Industries, Parker Biotech and Trifolio-M GmbH. Trifolio-M GmbH recently developed a commercially available neem seed kernel extracts known as NeemAzal--T/S, which is applied to soil for systemic granular plant protection.