Industry Insights
Global polyurea market size was 114.3 kilo tons in 2014. The polymer is used in a host of applications including construction and transportation owing to its unique characteristics including fast curing time, high thermal stability, pigment compatibility and excellent water insensitivity.
Polyurea is derived by the reaction of isocyanate compounds, and synthetic resin blended polymers through step-growth polymerization This polymer is processed to manufacture coatings, lining systems, adhesives, and sealants.
The increasing use of protective coatings in automotive and construction applications on account of its rust prevention and high durability is expected to promote the usage of the polymer. However, the presence of low-cost coating substitutes including epoxy and polyurethane is expected to impact adversely growth over the forecast period.
Polyurea is added to adhesive & sealant formulations on account of providing excellent adhesion to clean substrates such as wood, concrete, bitumen and blasted steel. The increasing application of adhesives & sealants as bonding agents in automotive and construction industries is expected to play a crucial role in promoting industry growth over the forecast period.
U.S. polyurea market volume, by application, 2012 - 2022 (Kilo Tons)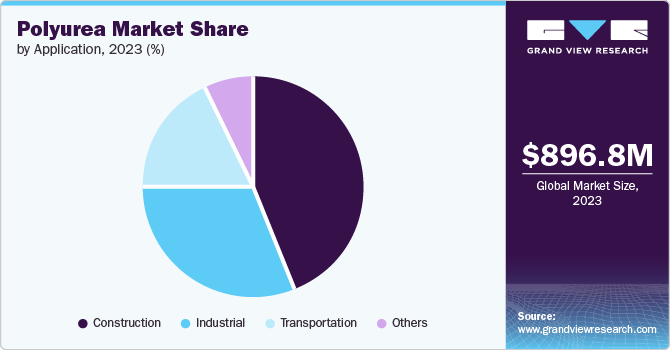 Increasing expenditure on the usage of lining systems for environment protection in practices including landfill control, on account of stringent regulations aimed at mitigating the adverse effect of pollution, is expected to fuel polyurea demand. However, increased prevalence of polyolefin based lining systems including HDPE and LDPE in construction and mining sectors on a global level is expected to remain a credible threat.
Application Insights
Construction was the largest application segment, accounting for over 40% of the global volume in 2014. High reactivity and relative moisture insensitivity associated with polyurea are expected to promote its use in secondary containment structures, manhole & tunnels, and tank liners.
Demand for polyurea in industrial applications exceeded 30 kilo tons in 2014. Shifting preference from breakdown maintenance to condition-based monitoring in the manufacturing sector is expected to promote the application of protective coatings and thus in turn fuel demand for the polymer over the next seven years.
Polyurea finds application as coatings and sealing materials in automotive, aerospace and marine sectors. The transportation sector is expected to witness growth at a CAGR of 4.0% from 2015 to 2022, in terms of volume.
Raw Material Insights
Aromatic compounds accounted for over 65% of the global volume in 2014. They were extensively used in a wide array of applications as they provide good physical properties and easy process ability. Majority of the market players use aromatic compounds such as methylene diisocyanate (MDI) prepolymers, polyoxypropylene amines, and aromatic amine to produce finished products on account of their low price as compared to aliphatic compounds
Aliphatic compounds are used on account of exhibiting superior stability under ultraviolet light as compared to aromatic counterparts. However, the high price of aliphatic compounds as compared to aromatics is expected to play a crucial role in limiting the formers' market.
Product Insights
Coatings dominated the global market accounting for over 65% of total volume in 2014, and the trend is anticipated to continue over the forecast period. Coating formulations are used in construction, automotive and healthcare industries on account of exhibiting properties such as corrosion protection, abrasion resistance, waterproofing, and structural enhancement.
Demand for polyurea-based lining products was 23.2 kilo tons in 2014. They are used majorly in landfills and waterproofing systems on account of their high chemical resistance against liquids and rapidly drying finishes. Rising importance of waterproofing membranes in the construction industry on account of providing good sealing property is expected to have a favorable impact.
It is also used as a caulking agent and sealing material in expansion joints and control joints in floors and water reservoirs on account of exhibiting good crack-bridging properties with high elongation and tensile strength. Adhesives & sealants are expected to witness growth at a CAGR of 4.2% from 2015 to 2022, in terms of revenue.
Regional Insights
North America polyurea market accounted for 39.8% of the global volume in 2014. The robust presence of automotive manufacturing base in the U.S. and Mexico is expected to remain a favorable factor for the market. Moreover, infrastructure improvement in the U.S. on account of increasing number of residential structures is expected to increase the use of the polymer in the form of adhesives and coatings.
Asia-Pacific is expected to witness significant volume gains at a CAGR of 5.9% from 2015 to 2022 on account of positive construction industry outlook in China and India in light of increasing expenditure for urban development and favorable home loan policies.
Competitive Insights
Key industry participants include BASF, W.R. Grace, SWD Polyurethane, Nukote Coating Systems International, LINE-X Protective Coatings, PPG Industries, Specialty Products Inc., and VersaFlex Inc. In May 2011, Nukote Coating Systems commenced production at its new manufacturing facility located in Dammam, Saudi Arabia. The new manufacturing facility has a capacity of producing 60-tons per day of polyurea and polyurethane.