Emergence of new technologies, such as advanced fluorescence detection and comparative genomic hybridization is fueling the growth of preimplantation genetic testing market
Global preimplantation genetic testing market was valued at USD 129.3 million in 2015. Growing awareness about genetic techniques for detection of chromosomal abnormalities and embryo screening for successful IVF holds growth prospects for this vertical over the forecast period.Early detection of the chromosomal diseases, which holds potential for reducing the number of people suffering from congenital diseases, in turn reduces the number of offsprings born with inherited chromosomal abnormalities. This can be attributed to the increased demand for preimplantation genetic testing (PGT) services in the recent years. Growing incidence of different gene-related disorders is anticipated to boost the demand for genetic diagnosis market.
In addition, increasing adoption of IVF in combination with preimplantation genetic diagnosis (PGD) is also anticipated to witness significant demand as it is already recommended for couples undergoing IVF therapy because of infertility and advanced maternal age, which in turn is expected to have a positive effect on the market progress.
On the other hand, aneuploidy screening plays a pivotal role in improving medically assisted reproduction (intracytoplasmic sperm injection/IVF), which is a variant of PGD, consequently boosting revenue generation. Technological advancements in preimplantation genetic testing for addressing challenges, such as single-cell diagnosis and risk of misdiagnosis, are anticipated to drive growth by increasing demand for this industry in the coming years.
Efficiency of PGT in satisfying the desire of having healthy child has been considered by biologists and compelled clinicians to add these services in their laboratory, which increases revenue generation in this vertical. Furthermore, continual rise in number of infertility cases due to several factors, such as couples opting for late pregnancy and change in lifestyle, is expected to drive demand for these services over the forecast period.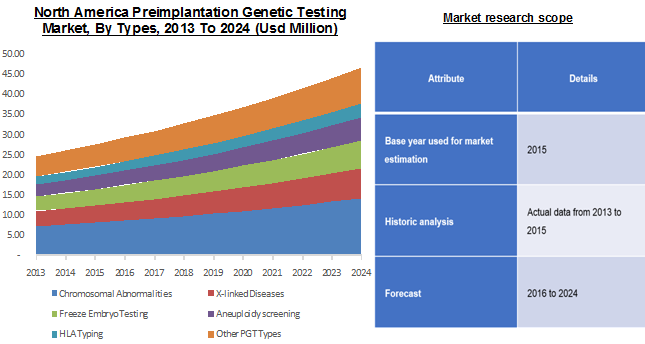 In addition, involvement of government to promote improvement in reproductive health by undertaking initiatives is also anticipated to bolster progress in this market in the near future.
However, ethical acceptability and legal issues posed by the adoption of preimplantation genetic testing services are expected to hamper the growth of this industry to some extent.
Preimplantation genetic testing for detection of chromosomal abnormalities held the largest revenue share in 2015
Detection of chromosomal abnormalities using preimplantation tests accounted for the largest share in the current scenario and is anticipated to maintain this dominant position over the forecast period as a consequence of subsequent development in techniques for detection of aneuploidies that are observed in advanced maternal age.
Although PGT for Human Leukocyte Antigen (HLA) typing is observed to have lower penetration in 2015, this segment is expected to witness lucrative growth in the coming years owing to the high success rate associated with hematopoietic reconstitution in siblings (affected with chromosomal abnormalities) by stem cells transplantation, attained from the HLA-matched offspring resulting from PGD.
Adoption of preimplantation genetic testing to diagnose inherited genetic diseases is the fastest growing application
Embryo HLA typing for stem cell therapy dominated with respect to revenue generated in 2015 market. This largest share can be attributed to the fact that hematopoietic stem cell transplantations from related matched donors are observed to improve overall survival rate when compared to unrelated donors.
However, role of PGT in detection of inherited genetic diseases is expected to exhibit fastest growth due to continual rise in number of offsprings born with conditions, such as hemoglobin disorders, cystic fibrosis, and other dynamic mutations. Rising prevalence of genetic diseases that can be inherited by the future generation is expected to augment growth and demand of this industry.
Europe is the largest regional PGT market owing to well defined regulatory framework
Europe dominated the 2015 market with revenue share of over 37% followed by Asia Pacific This largest share is attributed to increased number of late pregnancies that are expected to be IVFs. Also, liberal regulations in several countries of this region for aneuploidy screening are anticipated to add potential avenues in European PGT market.
Asia Pacific is anticipated to experience fastest growth with year on year growth of 6.5% over the forecast period. China and Japan are major countries in the region that continue to create advancements in reproductive health along with other healthcare disciplines. High adoption rate of IVF translates into increased usage of PGT in this region and is expected to boost revenue generation in Japanese PGT market. Moreover, the emerging economy of China and presence of regulatory bodies to monitor challenges associated with reproductive health are expected to encourage adoption of these services in this region over the forecast period.
High market competition is observed amongst prominent players operating in the PGT market
Some of the key players in this vertical are Quest Diagnostics; Reproductive Health Science Ltd; Natera, Inc; CooperSurgical, Inc; Genea Limited; Good Start Genetics, Inc; LabCorp; California Pacific Medical Center; Thermo Fisher Scientific, Inc; Bioarray S.L; Illumina, Inc.; Igenomix, Reproductive Genetic Innovations, LLC; F. Hoffmann-La Roche AG; and CombiMatrix.
These companies are involved in development of novel methods and solutions to carry out preimplantation genetic diagnosis as well as screening. In order to maintain their significant share in the revenue in the coming years, these participants are undertaking strategic initiatives. The strategic undertakings include regional expansion, collaborative development, and new products developments.