Industry Insights
The global prescription sunglass market size was valued at USD 2.97 billion in 2014. Rapidly changing fashion trends along with increasing buying power are anticipated to positively impact the industry growth. Aggressive promotions by the companies about the latest trends are projected to increase awareness among customers.
Significant technological developments, urbanization, and increase in population are the key driving factors for the prescription sunglass market. Increasing demand for these lens materials coupled with growing purchasing power in the developing countries is expected to positively impact volume sales.
Growing acceptance of vision corrective alternatives including refractive optical surgeries, as well as strong contact lenses demand are expected to act as a challenge for expansion. Development of advanced materials such as Trivex lens with superior optics, ultra light weight, and extreme strength is expected to offer considerable growth opportunities for prescription sunglass lens market participants.
U.S. prescription sunglass market by lens material, 2012 - 2022 (USD Million)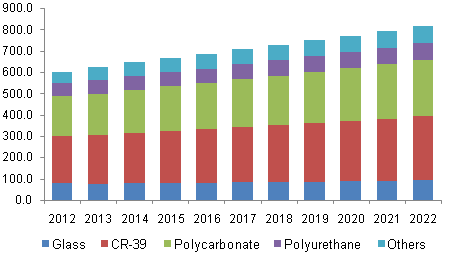 Lens Material Insights
Glass, CR-39, polycarbonate, polyurethane, and others such as Trivex that originated in the defense industry are key lens materials types used in the industry. Trivex offers better optical clarity as compared to polycarbonate. It is the lightest lens available with no added UV protection coating. Trivex is thin, lightweight, and much more impact-resistant than regular plastic or glass lenses.
CR-39 is an optical plastic with very less distortion used in making prescription lenses. This lens is formed from pouring the liquid polymer into a mould of optically treated glass. This method enables to attain a lens with the same characteristics of the originating glass. As compared to glass, the material is comparatively more lightweight and thinner. However, it is not recommended for active sports as it may break and shatter upon impact.
Polycarbonates are ten times more impact resistant than CR-39 materials and they differ in terms of molecular structure. Polycarbonate lenses are impact resistant, which makes them ideal for outdoor activities and sports. They provide superior performance in terms of UV absorption, and are lightweight and affordable. It is 43% lighter than CR-39 plastic; however, this material is susceptible to scratches as they are softer as compared to other materials.
CR-39 Rx sunglass market is estimated to enjoy widespread adoption due to cost effectiveness. Rising demand on account of widespread adoption in the developing economies has favorably impacted demand over the past few years.
Regional Insights
The Asia Pacific prescription sunglasses market is expected to a key revenue generator on account of rising purchasing power in the region. Latin America and MEA Rx sunglass industry are expected to witness significant growth over the forecast period owing to rising demand for protective eyewear which is used for hazardous environments such as in dealing with the chemical splashes and against radiation. Europe prescription sunglass market is expected to remain the dominant regional segment over the forecast period.
Competitive Insights
Luxottica, Safilo, Charmant, Marchon, Fielmann, and De Rigo dominate global prescription sunglass market revenue share in 2013. Luxottica owns a significant number of licensed and in-house brands, and focuses on mergers and acquisitions as the key strategy for expansion. Additionally, the company uses vertical integration in order to drive growth. Its in-house brand portfolio includes Ray-Ban, Oakley, and Oliver Peoples among several others; notable licensed brands include Chanel, Coach, Dolce & Gabbana, etc.
The presence of competent distribution channels is expected to be crucial for gaining competitive advantage. The industry varies in accordance with the lens material under consideration, and changing consumer preferences are expected to be the key deciding factor in lens material portfolio enhancement. Companies also engage in voluntary chain distribution system under which the organization is made up of a leading company along with medium and small retailers which benefit from their cooperation on operation, distribution, and procurement, and get advantages on brand building, information sharing, and purchasing.