"Rapidly growing demand in labelling and packaging applications"
The global pressure sensitive adhesives market size was USD 8.81 billion in 2015. Increasing need for weight reduction in end-user products offering high bonding solutions is expected to be a key determinant for industry growth over the next eight years.
The prevailing trend towards the use of lightweight and low-cost engineering plastics in diverse end-use industries such as automotive, construction, and electronics has created the need for pressure sensitive adhesive materials. Growing demand in automotive applications as a result of rising pressure from regulatory bodies for emission reduction and enhanced mileage performance is slated to drive growth.
U.S. Pressure Sensitive Adhesives Market Revenue by Technology, 2014 - 2024 (USD Million)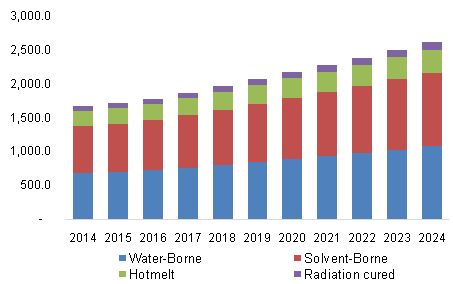 Ever-evolving trends in the market have seen and still continue to see the replacement of heavy metals, glass, construction material, and wood assembly by the commercially available low-cost plastic alternatives. It has been found in the crash test that adhesive bonded cars perform better as compared to welded cars since they do not have any impact on the substrate used in the assembly.
Pressure sensitive adhesive industry is touted to witness significant growth owing to the rapidly growing demand, particularly in the labeling and packaging industries. Increasing adoption of RFID labels owing to their role in improving inventory management is anticipated to positively impact pressure sensitive adhesives demand. The RFID labels are non-contact wireless tags finding wide application scope in various end-use industries such as automotive, architecture, packaging, and medical.
With the increasing capability of pressure sensitive adhesives in the automotive and labeling applications, factors such as growing health concerns, stringent energy efficiency laws, and rising environmental concerns over GHG emissions are expected to positively impact demand over the forecast period.
Social and cultural factors such as increasing number of working women, rise in dual income nuclear families and increase in spending on lifestyle products are also expected to impact market dynamics. Such factors are responsible for growth in key industries such as packaging, electrical & electronics and consumer goods.
Product innovation is the most widely followed development strategy being implemented by companies. Companies have been focusing on establishing their already existing products along with developing new, innovative and competitive products. For instance, to increase its product portfolio, Ashland launched Arocure UV curable pressure sensitive adhesivesfor application in specialty tapes. These adhesion systems were based on hot-melt technology.
"Water-based was the leading technology segment for pressure sensitive adhesives"
The water based pressure sensitive adhesives provide high resistance to chemicals, temperature, and UV radiation, which make them desirable for a wide range of applications. These have high shear, peel & tack and bond well with surfaces like metals, polymers, glass & polycarbonates.
Labels segment is the largest application segment of water based pressure sensitive adhesives. These labels are used on wide range of products including fruits & vegetables, CDs and electronic devices owing to high tack and superior moisture adhesion properties. The water-borne adhesives are already established particularly in the mature markets of North America and Europe. Additionally, due to their versatile properties and low price; they have gained an advantage over conventional high priced polymers.
Solvent based pressure sensitive adhesives are acrylic polymers made from petroleum based solvents and offer high tensile strength. They also provide peel and sheer strength greater than the water based pressure sensitive adhesives. Solvent based are used in larger quantities in Asia Pacific owing to less stringent regulations regarding emissions in the region. These are increasingly used in automobiles, owing to their resistance to chemicals and fluids such as oil, antifreeze, brake fluid and gasoline.
"Pressure sensitive adhesives labels were the largest consumed product"
Labels emerged as the leading product segment, growing at an estimated CAGR of over 5% from 2016 to 2024. Growth in this segment is expected to be driven by wide application scope in food & beverage, health & beauty, transportation, and security industries.
RFID labels are one of the largest applications of pressure sensitive adhesives labels due to its ability to keep track of inventory and security at locations such as companies, airports, shopping malls and sea ports. They are largely used for cold storage applications especially fish and meat.
Tapes are one of the dominant markets with application in automotive, electrical, medical and building & construction industries. These are used for masking, sealing, casketing, splicing, HVAC & pipe wrapping and mounting purposes.
"Packaging was the leading end-use segment for pressure sensitive adhesives"
Packaging emerged as the dominant end-use segment where pressure sensitive adhesives are utilized in large quantities for the food packaging applications. The segment accounted for over 25% of the global volume in 2015.
Advancements in packaging technologies along with the increasing use of flexible packaging materials requiring pressure sensitive adhesives owing to properties such as good adhesion at low temperatures is expected to drive the segments demand. Packaging segment is expected to maintain its dominance, growing at an estimated CAGR of over 5% from 2016 to 2024.
It is extensively used in the electrical & electronics industry owing to enhanced performance characteristics such as strong bond strength, easy application, and transparency along with reduced processing time. Electronic appliances such as microwaves and refrigerators along with devices such as membrane switches are expected to further generate demand for pressure sensitive adhesives over the forecast period.
Pressure sensitive adhesives are increasingly being used as an alternative to solder, liquid epoxies and mechanical fasteners owing to certain desirable properties such as ease of handling, clean application, thickness control, consistent bond, flexibility, and mess-free processing. Increasing need for fast prototyping, use of automation and quick changeover are expected to drive growth in the electrical & electronics segment.
"Asia Pacific was the leading pressure sensitive adhesives market followed by North America"
Asia Pacific accounted for over 45% of the global volume in 2015. The majority of the demand is expected from the automotive and electrical & electronic industries. Rising disposable income along with the easy availability of funds via EMI and personal loans has prompted the demand for automobiles in the region.
Changing consumer preferences toward processed and convenience food is anticipated to stimulate demand for pressure sensitive adhesives in Central & South America for labeling applications. Developing countries such as Uruguay and Brazil are witnessing strong industrial growth along withhuge investments in construction and automotive sectors. Growing interregional trade between Brazil and countries such as Colombia, Venezuela, and Argentina are expected to drive demand in Central & South America.
North America and Europe are expected to witness considerable growth owing to stringent regulations regarding VOC emission along with fuel efficiency norms. Regulatory agencies such as U.S. EPA and REACH have strict norms for the chemical industry to improve sustainability.
This requires substantial investment by the companies to develop environment-friendly product portfolio in compliance with the regulations. Recovery of construction automotive industries in Europe is another development stimulating demand in the region.
"The global pressure sensitive adhesives market is fragmented in nature"
Global pressure sensitive adhesivesb is highly fragmented in nature with the presence of numerous small and large scale companies. Key industry participants operational in the global pressure sensitive adhesives marketinclude 3M, Avery Dennison, Bostik, H.B. Fuller, Sika, Ashland, Dow Chemicals, and Henkel. Other prominent vendors include Collano Adhesives, Drytac, Franklin Adhesives & Polymers, Jesons Industries, Novamelt, and Scapa.