Industry Insights
The global proppants market demand was 49,769.6 kilotons in 2014. The market is projected to expand at a CAGR of 11% from 2015 to 2020. Rising application of proppants in hydraulic fracturing to keep the fractures open and to impart high permeability to unconventional plays is anticipated to fuel the growth. Large technically recoverable reserves in Asia Pacific coupled with increasing consumption of proppant per well is expected to act as a key market driver. In addition, the introduction of multi-stage fracturing resulting in an increased number of fracturing stages is anticipated to drive the product consumption in the near future.
The rising popularity of ceramic proppant on account of excellent properties including high strength, conductivity, and crush resistance are expected to play an important role in driving market growth over the projected period. Moreover, an increasing number of horizontal wells in North America would result in a higher demand for proppants per well which is expected to have a positive impact on market growth over the next six years.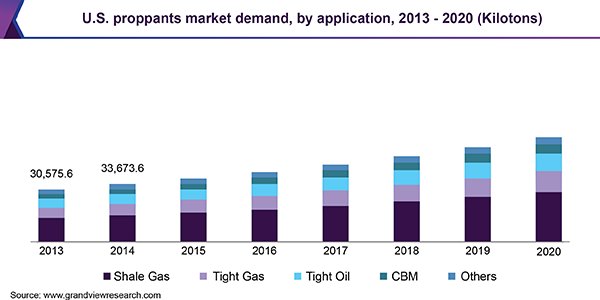 Stringent government regulations aimed at reducing hydraulic fracturing due to its hazardous environmental impact and groundwater contamination could pose a challenge to market growth. In addition, the high transportation cost of proppants is also expected to have a negative impact on the expansion. Development of eco-friendly non-phenolic resin-coated proppants and improvement in hydraulic fracturing process in terms of increasing fracture flow capacity could be major growth opportunity drivers over the forecast period.
Product Insights
Sand was the largest product segment, accounting for over 75% of the market share in terms of volume in 2013. Low cost and high availability of sand as compared to other proppants are expected to help maintain market leadership over the forecast period. Ceramic proppants are expected to witness a swift rise in demand on account of growing consumption in impermeable shale plays as they impart high crush resistance, conductivity, and strength. Resin coated proppants are expected to witness high demand on account of a performance advantage over sand and cost advantage over ceramic proppants.
Ceramics are non-metallurgical materials made by the fusion in the presence of intense heat on materials such as alumina, clay, tungsten carbide, and silicon carbide. Rapid rise in demand from the construction business is a major driver propelling the ceramics market across the globe. Moreover, factors such as ease of maintenance and durability are anticipated to contribute to the rising popularity of the product which in turn is expected to drive the demand in the forthcoming years.
Ceramic proppants are used to maintain the induced hydraulic fractures open at the time of fracturing or after a fracture treatment. Rise in oil and gas extraction activities has led to increased market share. Due to the high strength of ceramics compared to the sand one, there is increased demand of the ceramics proppants over the sand variants, hence adding to the market share. Moreover, the introduction of hydraulic fracturing along with horizontal drilling is anticipated to further fuel the demand over the forecast period.
Application Insights
Proppants are used in hydraulic fracturing for various application segments including shale gas, tight gas, coal bed methane, and others such as LNG, shale oil, and tight oil. The growing application scope of proppant in shale gas extraction owing to its use in power generation and transportation is expected to drive market growth over the forecast period.
Moreover, the presence of large unexplored shale gas reserves in China, Australia, Argentina, Saudi Arabia, Algeria, and Brazil is expected to propel the demand in the forthcoming years. In addition, increasing use of ceramic proppant in shale plays owing to high Estimated Ultimate Recovery (EUR) and permeability is expected to further drive the growth. High potential reserves of Coal Bed Methane (CBM) in India and Australia are expected to augment demand for proppants in this application.
Tight Gas is extracted by means of hydraulic drilling with low permeability. The recent introduction of hydraulic drilling along with the horizontal drilling of wells has led to an increased market share of tight gas. Increasing usage of tight gas in residential area and power generation, in recent years, has led to an increased market share of tight gas.
Moreover, soaring prices of oil and its depletion from the earth core has led to the increased demand for an alternative, which is estimated to augment the market. Furthermore, stringent rules and regulations for shale gas are anticipated to drive the segment growth over the forecast period.
Regional Insights
North America led the regional proppants market and is expected to witness significant growth on account of increased drilling and completion activities in the U.S. and Canada for shale plays. Asia Pacific is expected to witness a rise in demand owing to the presence of enormous shale gas reserves and hydraulic fracturing projects in China and Australia coupled with potential shale gas extraction projects in India.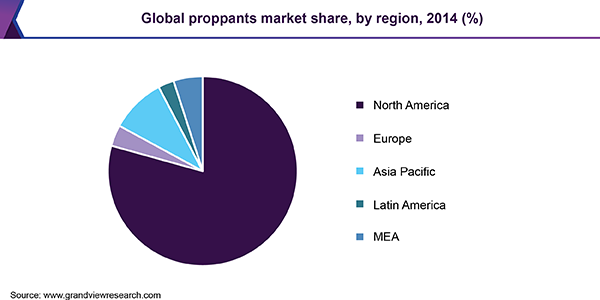 Governments of countries like China and India have announced plans to develop shale gas reserves as a part of their 12th five-year plans, which is expected to have a positive impact on market growth. The advent of shale gas and tight gas reserves in Saudi Arabia, Algeria, and Kuwait is expected to drive the market in MENA over the forecast period. In addition, demand for ceramic proppants in Russia is expected to accelerate on account of growing hydraulic fracking activities primarily for unconventional oil.
Europe is expected to showcase a healthy rise during the forecast period due to the high-rise of hydraulic fracking in the region. Hydraulic fracking involves the use of proppants for the extraction of energy sources such as shale gas and tight gas. Moreover, rising demand for unconventional energy sources due to its various advantages over conventional sources in terms of pollution has led to the rise in hydraulic fracking along with horizontal drilling in the region. This has led to a rise in regional demand.
Proppants Market Share Insights
Key market players include Carbo Ceramics, U.S. Silica, Fairmount Santrol, Hi-Crush LP Partners, Momentive, Saint-Gobain, Fores, and Preferred Sands. The majority of players have increased production capacity in Asia Pacific due to application growth in the region. The First Shale Gas Industrial Policy by the Chinese government is intended to promote the rapid growth of the shale gas industry. It is expected to open new growth opportunities for the market players in this region in the near future.