Industry Insights
The global solvent market size was valued at USD 34.6 billion in 2014 and is expected to expand at a CAGR of 4.8% over the forecast period. Solvent is a chemical that liquefies in a chemically diverse solute to make a solution. It is generally in liquid form but is also available in gaseous and solid form. There are two variants of solvents, namely conventional and organic.
Conventional solvents consist of glycol ethers, hydrocarbons, acetate esters, alcohols, chlorinated, and ketones. Organic ones are majorly used in traditional applications, such as dry cleaning, as well as in manufacturing industries. They are highly flammable in nature except chlorinated solvents. Some of them cause health hazards such as toxicity in reproductive systems and nervous systems. Moreover, they can damage lungs, kidneys, and even lead to cancer.
It is highly advisable to use the solvents with all the precautions to reduce any health hazards associated with them. Global demand has been continuously rising on account of robust growth in the construction sector, particularly in emerging countries of Asia Pacific and Latin America. Coatings and paints are widely used in the construction and manufacturing industries, thereby resulting in increased demand for solvents in the abovementioned end-use industries. Some of the major applications of the product are adhesives and sealants, paints and coatings, and printing inks.
Demand for organic solvent has been continuously growing in the global market on account of its increasing application across various end-use industries. However, growing environmental issues, coupled with volatile nature of key raw material prices, are expected to remain a key challenge for industry participants. In order to reduce these effects, the industry has shifted its focus towards developing bio-based solvents, which are environmentally friendly. In the quest to achieve sustainability, leading solvent manufacturers have been collaborating with top biotechnology firms to manufacture green and bio-based solvents.
Product Insights
The overall solvent market on the basis of product is segmented into hydrocarbons, alcohols, esters, ketones, chlorinated, and others such as soy oil and glycols. Alcohol emerged as the leading product segment in the market and accounted for over one-fourth of the total volume. It is also expected to emerge as one of the fastest growing segments over the forecast period. Emergence of soy oil and glycol-based solvents is expected to hold immense opportunities in the market space for major participants.
Ketone solvents such as acetone, methyl ethyl ketone, and methyl isobutyl ketone are used across a wide range of applications including paints and coatings, adhesives, chemical processing, cleaning products, and printing inks. Over the recent past, there has been a gradual shift towards demand for water-borne paints and coatings.
The trend is primarily due to increasing scrutiny by environmental agencies on VOC emissions from solvent-based paints and coatings, which has impacted the growth of ketone solvents. However, due to the varying nature of these policies and their standards across regions, the impact has been minimal across developing countries, where regulatory environment is relatively lax.
Application Insights
Based on the application, the market is segment into printing inks, paints and coatings, pharmaceuticals, and adhesives and cosmetics. Paints and coatings emerged as the leading application segment and accounted for over 60.0% of total volume in 2014. Increasing construction activities in emerging countries such as China, India, and Brazil are expected to spur growth of the paints and coatings application segment. Bio-based solvents are used in paints and coatings to dissolve binders and colors and provide consistency. The paints and coatings segment is expected to emerge as the fastest growing segment over the forecast period.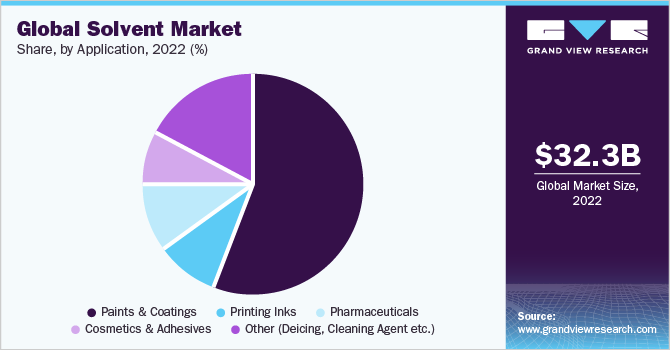 Ketones such as MEK are widely used in paints and coatings due to their ability to obtain low viscosity solutions and high solid content. However, due to regulatory agencies concerning environment and sustainability formulating policies to restrict solvent-based paints and coatings, demand for water-borne products is increasing as alternatives. This trend is likely to affect demand for ketone solvent in developed regions.
Ester solvents are largely used in paints as an activator or hardener and they find moderate usage as an industrial cleaner. Due to shift in trend towards using water-borne paints in construction, automotive, and electronics applications, the usage of solvent in paints and coatings shall be challenged by sustainable alternatives.
Regional Insights
Asia Pacific dominated the global market and accounted for over 40.0% of total volume in 2014. The region is expected to be the fastest growing regional market, expanding at an estimated CAGR of 3.7% over the forecast period. Increasing spending on construction in China and India, coupled with growing industrialization in these countries, is expected to spur market growth in the region. Growing end-use industries such as paints and coating and adhesives in countries such as China, India, Indonesia, Thailand, Vietnam, and Korea are expected to fuel product demand in the region over the forecast period.
North America and Europe are fairly mature markets, which are about to reach saturation. These regional markets are particularly driven by green initiatives taken by regulatory bodies.Increasing regulatory intervention, coupled with strict environment laws regarding solvent usage and manufacturing in these regions, is expected to restrict market growth in the region. Emergence of bio-based solvents, along with rising awareness among consumers related to benefits of environment friendly products, is expected to influence the product demand over the forecast period.
Solvent Market Share Insights
The industry is highly fragmented due to the presence of numerous industry participants. Major players such as BASF SE, Dow Chemicals, and Shell Chemicals have a high degree of integration across the value chain. These market participants have well-established manufacturing facilities and are focusing on in-house raw material manufacturing to reduce the production cost.
Moreover, manufacturers are focusing on lowering the impact of high product registration cost and regulatory intervention by investing in R&D activities and complying with regulatory bodies. Factors such as product differentiation, raw material procurement, and regulatory compliances are projected to play a vital role in providing competitive edge to industry participants. Prominent players involved in this industry include Cargill, Inc.; Chr. Hansen; Ajinomoto; Archer Daniels Midland (ADM); HERZA Schokolade GmbH& Co. KG; Indena S.p.A.; Martin Bauer Group; and Frutarom Ltd.