"Advances in nanotechnology for coating applications expected to drive industry growth"
The global superhydrophobic coating market was valued at USD 5.77 million in 2015. Rising demand for consumer electronics with highly water-repellent properties to protect sensitive data & components is a key factor driving market growth.
Inspired biometrically from natural sources such as the lotus leaf and desert beetle, these can be applied to almost all surfaces, regardless of its complex geometry or composition. Furthermore, technological developments have fostered the production of highly transparent coatings with high optical clarity, which are increasingly finding application in non-fogging, self-cleaning displays and materials.
U.S. Superhydrophobic Coating Market revenue by raw material, 2014 - 2024 (USD Thousand)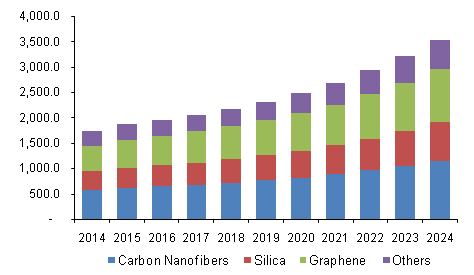 Other advantageous product characteristics such as adjustable water contact angles have also encouraged the development of water corrals for drug screening, combinational chemistry, biological studies and related applications.
Anti-microbial superhydrophobic surfaces are also increasingly gaining popularity in the healthcare sector, on account of their water resistance, impermeability, safety, and biocompatibility.
Although hydrophobic coatings are vastly popular, superhydrophobic coatings are yet to be commercialized to such a large extent, since their production processes are comparatively sophisticated with high investment costs.
Furthermore, the products currently manufactured are not durable, and are unable to withstand rough handling or duress, which has limited their application in commercial or industrial purposes.
However, as new players seek to commercialize, the prices are subsequently likely to reduce over the forecast period. Technological innovations and product R&D efforts are currently underway by major organizations such as the Sandia Corporation and Rust-Oleum Company, which is further expected to provide lucrative opportunities for new market entrants.
Governmental regulations and global efforts to promote water conservation have also led to high reliance on self-cleaning technologies, which in turn is crucial to industry growth. Growing consumer awareness regarding the benefits of such anti-wetting, anti-icing and anti-microbial surfaces is likely to impact demand over the forecast period.
"Carbon nanotubes were the most dominant raw material for superhydrophobic coatings in 2015"
Carbon nanotubes are expected to continue dominating the superhydrophobic coatings industry on account of their unique mechanical & electrical & thermal properties, in conjunction with their lightweight, hollow characteristics.
The segment is expected to occupy around 32% volume share by 2024. However, the material is mostly expensive to manufacture owing to complex production technologies, which is likely to hamper its growth rate over the forecast period.
However, other raw materials such as calcium carbonate, & oxide polystyrenes of manganese and zinc are expected to emerge as fast growing segments, with highest anticipated CAGR of around 10% from 2016 to 2024. These composites are highly durable as compared to gel-based coatings, which has fostered their demand in the global market.
Silica nanoparticles are likely to remain the most economically viable raw material on account of their low costs and wide availability. These gel-based types were conventionally the most favored raw material type, although the development of more sustainable materials has led to a decline in their market share.
"Anti-microbial coatings emerged as an important property in the medical industry"
Anti-microbial superhydrophobic coatings have recently dominated the industry owing to high demand from the medical & healthcare sector. These extremely water-repellent surfaces reduce the risk of harboring deadly pathogens, which is likely to foster their growth at about 9% CAGR over the forecast period.
Anti-microbial types are increasingly being utilized to manufacture biocompatible, water-repellant surgical tools, medical devices & even nonwovens such as operating gowns & gloves. However, anti-wetting and anti-icing coatings are likely to emerge as key property segments, with their combined volume share expected to exceed 65% by 2024.
Technological advancements and development of durable nanomaterials on stainless steel substrates is expected to emerge as a vital determinant for molding industry dynamics over the forecast period.
"Performance enhancement of consumer electronics is a key driver for the industry"
The global electrical & electronics industry emerged as a major consumer on account of growing demand for self-cleaning & water-repellant consumer electronics such as Smartphones and others such as solar panels. The segment is expected to occupy over 24% revenue share by 2024, growing at about 9% CAGR from 2016 to 2024.
However, the medical & healthcare sector is anticipated to emerge as the fastest growing market, on account of rising demand for anti-microbial, superhydrophobic equipment & materials.
Other industries such as transportation & optical are also anticipated to provide lucrative opportunities for superhydrophobic coating manufacturers, owing to technological innovations that are likely to overcome the current migration & durability issues.
"R&D efforts in Asia Pacific are expected to promote regional growth at a high rate"
North America Superhydrophobic Coating Market led the global industry owing to the presence of major companies that have high technological investments in the industry. Furthermore, economic recovery and increasing demand for advanced consumer electronics are other factors driving the regional market.
However, Asia Pacific is anticipated to witness highest growth with over 10% CAGR from 2016 to 2024, on account of inexpensive raw material at optimum quality and expanding electronics industry. Growing consumer awareness regarding the benefits of these coatings in automobiles, textiles and food packaging is another factor driving industry growth.
Central & South America (CSA) also presents lucrative opportunities for market participants, on account of several construction activities that took place in preparation of the Rio Olympics in 2016. Non-residential buildings such as sports complexes are ideal for application of these coatings to reduce corrosion, improve waterproofing & promote sustainability.
"Rust-Oleum & UltraDry emerged as dominant companies for superhydrophobic coatings"
Major industry players such as Rust-Oleum currently dominate the global Superhydrophobic Coating Market with industrial & consumer brands such as NeverWet, while newer market entrants are undertaking various R&D efforts to compete in the industry.
There is an intensified degree of competition in recent years on account of increasing entry of domestic & international companies, focusing on developing products for the electronics and various other sectors.
Prominent industry players in the global Superhydrophobic Coating Market include P2i International Ltd., UltraTech International Inc., Lotus Leaf Inc., NEI Corporation, NTT Advanced Technology, Hydrobead, Aculon, Pearl Nano, United Protec, DryWired, Advanced NanoTech Lab (India), Hirec Paints and Surfectis Technologies among several others.