Industry : Plastics, Polymers & Resins
Antimicrobial additives are chemical ingredients that prevent algal, bacterial, and fungal growth in materials exposed to high levels of unsanitary conditions, ultraviolet radiations, and moisture. These additives are primarily used in products such as plastics, papers, paints & coatings, textiles, inks, rubber, and fabric care to improve hygiene standards and durability of products.
Antimicrobial additives find their application in various end-use industries which include healthcare, food & beverages, packaging, construction, automobiles, electronics, and furniture. Significant growth in medical equipment and consumer goods is anticipated to aid in the industry expansion over the upcoming years. Increasing vehicle production owing to population growth, rising consumer surplus, and foreign direct investment in the manufacturing sector will drive the demand for these additives in paints and coatings application. Moreover, rapid growth in the food & beverage sector will drive the usage of these additives in packaging materials and promote industry expansion.
Global packaged food market revenue, 2015-2020 (USD Trillion)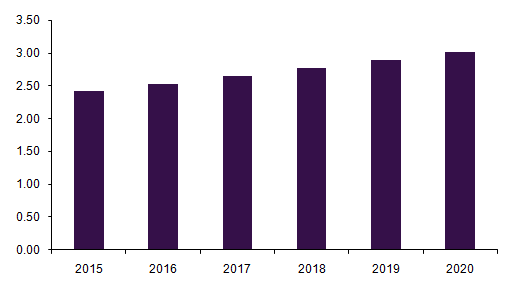 Rapid urbanization is raising consumer awareness regarding health related issues and will augment the growth of the antimicrobial additives market over the upcoming years. However, stringent regulations for the approval and registration of antimicrobial additives are expected to restrain the market growth over the forecast period. Furthermore, the ban onoxybisphenoxarsine (OBPA) and triclosan from being sold and used in several countries on account of threats to human health will pose challenges for the market growth.
Asia Pacific was the dominant market and is expected to witness significant growth over the forecast period on account of healthcare development in China, India, Singapore, and Thailand. Favorable government initiatives to develop healthcare facilities coupled with improving standard of living in the region are expected to fuel the demand for antimicrobial additives. The growing demand for medical devices such as medical ventilators, anesthetic machines, heart-lung machines, electrocardiograph, fusion pumps, CT scanners, x-ray machines, medical imaging machines, and dialysis machines will fuel the demand for antimicrobial additives in plastic application.
Rapid infrastructure development in the region along with the growing automobile production in light of increasing government spending and public-private partnerships will drive the usage of the product in paints and coatings over the forecast period. In addition, favorable political and economic scenario in China along with new healthcare reform "Healthcare Service System (2015–2020)" will encourage the development of medical equipment in the country, which will open new market opportunities over the upcoming years.
Key industry players include AkzoNobel N.V., BASF SE, Dow Chemical Company, BioCote Limited, Sanitized AG, SteriTouch Limited, Life Material Technologies Limited, Nanobiomatters Industries S.L., Momentive Performance Material Inc., Clariant, Microban International, A. Schulman, Inc., Milliken Chemical, RTP Company and Plastics Color Corporation.

In-depth report on global antimicrobial additives market by Grand View Research:
https://www.grandviewresearch.com/industry-analysis/antimicrobial-additives-market