Industry : Food & Beverages
Protein ingredients are vital constituent of the cells in the human body that help in repairing and healing the human body. Animal proteins are usually derived from fish, milk, meat, egg and gelatin. On the other hand, plant protein is obtained from rice, pea, soy, canola and wheat. Protein ingredient market is witnessing a significant growth in the recent years owing to increasing importance of health benefits across the globe.
Heightened consumer awareness regarding the daily intake of functional foods and dietary supplements enriched in protein content is likely to propel the market growth. One of the key drivers for the protein ingredients market growth is the strong scientific evidence supporting health benefits. Ongoing research conducted by scientists has proved that protein ingredients are the best source to keep the body fit.
Metal injection molding market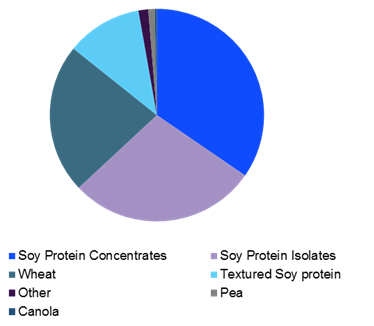 Whey proteins are beneficial for cancer patients as well. Egg protein is increasingly being fortified into food & beverage products such as ice creams, bakery, meats, and sport foods on account of combating nutritional deficiencies. In addition, increasing consumer focus on fitness is also expected to augment market growth over the forecast period. Increasing awareness to increase intake of healthy and protein rich food, has been a critical factor for market development in recent times.
Numerous plant & dairy protein manufacturers are integrated across various stages of the value chain. Plant & dairy protein ingredients are functional foods, and their demand is largely dependent on the demand for end products in which these are used as ingredients. Protein fortification in food & beverages is a key imperative to meet global challenges in nutritional deficiencies. Abundant availability of soybean in the U.S. and Brazil is likely to have a positive impact on the market.
Agricultural growth in Brazil is anticipated to have a positive impact on raw material suppliers in the next few years. EPA and European Commission implemented favorable policies to promote the production of naturally derived products such as biofuels. Therefore, gaining popularity of biofuels due to regulatory inclination is anticipated to restrict raw material availability for soy protein production. Food & beverage industry growth in BRICS and Saudi Arabia is anticipated to fuel plant & dairy protein ingredient demand over the forecast period.
The global protein ingredients market is characterized by the presence of large international companies. DuPont, Bunge, Cargill, ADM and Mead Johnson are appeared to be the most prominent player operating in the market. Protein ingredients production is mostly concentrated in U.S., Italy, France, Germany and China. Raw material availability in China and India is anticipated to force market players to maintain their manufacturing units in the vicinity.

In-depth report on global protein ingredients market by Grand View Research:
https://www.grandviewresearch.com/industry-analysis/protein-ingredients-market