Industry : Specialty Polymers
Rigid packaging is characterized by a finite shape and inflexibility of materials. Cartons, bottles, and containers are some of the common rigid packaging products. In order to make them attractive, pigments and colors are added to these products. Rigid packaging can be a basis for primary, secondary or tertiary packaging.
Metals such as aluminum and steel, plastic grades such as polyethylene terephthalate (PET) and polyethylene (PE), as well as glass and paper boards are majorly used for making rigid packaging products.Since these materials are used in a variety of end-use industries, their consumption is also considered to provide an indication of the economic growth of a country or a region.
Global rigid packaging market, by application, 2015 (%)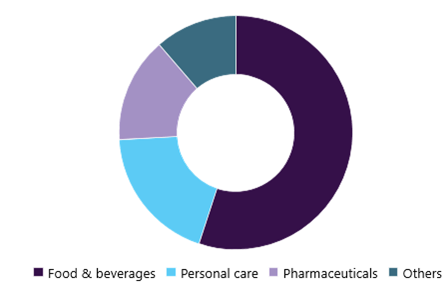 As seen in the above figure, the food & beverage segment witnessed the largest demand for rigid packaging products in 2015. Busy lifestyles of people have resulted in growing demand for packaged and processed foods, which have boosted the demand for rigid packaging in this segment.
Plastic was the most commonly used material in 2015. Cost-effectiveness and high strength of plastics have resulted in their increased demand in the rigid packaging market. Bioplastics, which are made from recycled and eco-friendly materials, are expected to witness the highest growth over the forecast period. Regulations regarding the sustainability of packaging products are expected to drive this market.
Increased spending on medicines and medical devices are expected to make the pharmaceuticals industry the fastest growing segment in the rigid packaging market. Besides, new technologies and innovations in the pharmaceutical industry are expected to play a key role in the market over the forecast period.
Asia Pacific is expected to be the fastest growing region in this market. In fact, it held the largest share in 2015, followed by North America. Growing end-use industries such as food & beverages and personal care in emerging countries such as China and India are expected to be the main reasons for the increase in demand for rigid packaging in Asia Pacific.
Similar to Asia Pacific, the Central & South American region is expected to witness a steady growth in demand for rigid packaging products over the forecast period. This region is home to some of the upcoming economies such as Brazil, Colombia, and Argentina among others, which is one of the major factors for this surge in demand.
New product development was one of the key growth strategies adopted by players in this market. This was evident from Amcor's launch of Amcor MediCan, a packaging solution for pharmaceuticals, in March 2012. This launch helped the company expand its product portfolio in the healthcare segment.

In-depth report on global rigid packaging market by Grand View Research:
https://www.grandviewresearch.com/industry-analysis/rigid-packaging-market