The Silent Killer
Some hard facts. Cancer has been second leading cause of death in the U.S. and around the world. Inefficient early diagnosis, low awareness, and unmet clinical needs are some of the major factors contributing to the growing base of this disorder. Globally, nearly 1 in 6 deaths occur due to some type of cancer, leading to 9.6 million deaths in 2016. A report by the American Cancer Society expects 1.8 million new cancer cases to be diagnosed in the country in 2020, with 606,520 expected to fall prey to the disease. Another astonishing fact is that 16.9 million Americans who have had a history of cancer, were unaware of its presence as of 1st January, 2020.
By 2030, the global burden of cancer is expected to grow to around 21.0 million new cancer cases and more than 13 million deaths. Cancer of the digestive system is expected to have the highest number of new cases in 2020, followed by that of the genital system, breast cancer and respiratory system. With such a high number of global deaths, it is naturally the objective of medical institutions and researchers to curb the growth of the big 'C'. The development of the cancer biomarker market is crucial in this regard.
The Concept Of Cancer Biomarker
First of all, what is a biomarker? Biomarker is a substance or enzyme present in the body that indicates presence or occurrence of a certain disease. So, for example, one's blood pressure is actually a biomarker. Cancer biomarkers can be a molecule expressed by the body as a response to tumor presence. The biomarkers are majorly genetic, proteomic, epigenetic or phenotypic in nature. Most of them can be assayed in non-invasive fluids such as blood & serum and are easily detectable without causing much pain.
Biomarker research is gaining high importance these days owing to its benefits such as accurate detection, easier diagnosis, and low chances of misdiagnosis during early cancer diagnosis. Comparison of cancer biomarker at two different sites is very useful for identifying metastatic tumors. Many different types of biomarkers have been characterized earlier and are in use in many cancer diagnostic testing procedures. Some of these are associated with only one type of cancer while some are expressed in two or more types.
With regards to research and medicine development, cancer biomarker is used in the following ways:
Risk assessment - These biomarkers are generally associated with a predisposition to cancer, and can prove useful in predicting the future risk of breast cancer for a woman.

Screening/detection - These cancer biomarkers help in the real-time indication of the presence of the disease.

Diagnostic - To help in diagnosing conditions, such as to identify early stages of cancer, and determining its origins.

Prognostic - Cancer biomarker helps to determine the severity of the condition, such as to determine how well the patient can cope without any medical assistance.

Predictive - Projecting the patient's responsiveness to the treatment.

Monitoring - Biomarkers help in monitoring and predicting the recurrence of cancer in a patient after treatment.
Rising Trend of Biomarker-Based Studies
Cancer biomarker encompasses a wide variety of molecules, such as mRNA, DNA, cell surface receptors, and secreted proteins. An ideal biomarker should be measured reliably, easily and cost-effectively using an assay with high analytical sensitivity and specificity. Additionally, it should be present in detectable quantities at early stages, and the quantitative level of the biomarker should indicate tumor burden.
Currently, a high number of biomarkers are present for specific type of cancers. Some of the widely used cancer biomarkers are as follows
Lung cancer (EGFR, ALK gene, BRAF, PIK3CA, KRAS)

Breast cancer (HER-2, CA 15-3, CEA, ER/PR)

Prostate cancer (Prostate-Specific Antigen)

Colorectal cancer (Carcinoembryonic Antigen)

Leukemia/lymphoma (CD20, CD30, PDGFR, TPMT)

Pancreatic cancer (elevated leucine, isoleucine and valine levels)
Cancer biomarker finds a wide application in fields such as specific cancer diagnostics, drug development, prognostic testing, and risk assessment studies. With advancement of technology, biomarker targeting drugs are coupled with appropriate companion diagnostics to monitor treatment response and recovery rate in individuals with different pharmacodynamics.
As well as their use in cancer medicine, biomarkers also are used throughout the drug discovery process of the disease. Another promising application area is surrogate endpoints, wherein cancer biomarkers act as a stand-in for drug effects on cancer progression and survival. Success of biomarker surrogates could save significant efforts, time and money, as the failing drugs can be removed from the development phases, thus preventing their presence in clinical trials.
Global cancer biomarkers market, by application, 2016 (USD Billion)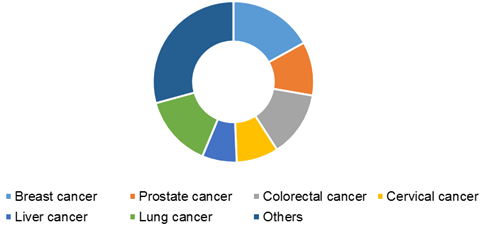 North America & Asia Pacific Critical For Industry Growth
North America has had a dominant share in the cancer biomarker market, owing to the high healthcare spending in the region, established research base for development of novel cancer biomarkers, and increasing funding collaborations between research institutes.
Asia Pacific on the other hand is estimated to witness lucrative growth in the coming years. Increasing clinical trials conducted in Asian countries, high capital investment from key players, growing medical tourism, and rising awareness amongst patients for early & accurate diagnosis are some of the factors affirming growth of cancer biomarkers in this region.
Market Players & Developments
The notable players in the cancer biomarker market include Abbott Laboratories; F. Hoffmann-La Roche Ltd.; QIAGEN; Thermo Fisher Scientific Inc.; Affymetrix Inc.; Illumina, Inc.; Agilent Technologies; Merck & Co. Inc.; Hologic, Inc.; Sino Biological Inc.; and Becton, Dickinson and Company are some of the key players of the market. New product development and strong pipeline of drugs in clinical trials targeting biomarkers are the major strategies undertaken by these players to maintain their market position.
Some of the recent developments that the cancer biomarkers industry has seen include:
In November 2019, Thermo Fisher Scientific announced a collaborative partnership with Owlstone Medical to pace-up the early diagnosis of cancer as well as other diseases through the discovery and validation of unique biomarkers. This would be made possible through the integration of Orbitrap gas chromatography mass spectrometry (GC-MS) instrumentation into Owlstone Medical's Breath Biopsy platform.

In April 2019, Roche announced the launch of the VENTANA HER2 Dual ISH DNA Probe Cocktail assay, for the detection of the HER2 biomarker in gastric and breast cancer in patients who are eligible for the targeted Roche drug Herceptin. The assay was launched in Europe, the Middle East and Africa, as well as Latin America and Asia-Pacific.

In January 2020, Roche announced a 15-year partnership with Illumina concerning oncology. The partnership includes collaboration on new companion diagnostic indications for the former's pan-cancer assay. The deal also allows Roche to develop and distribute IVD tests for the current and future hardware lines of Illumina.

In-depth report on global cancer biomarker market by Grand View Research:
https://www.grandviewresearch.com/industry-analysis/cancer-biomarker-market