Biomarkers are substances or enzymes present in the body that indicate presence or occurrence of a certain disease. Cancer biomarkers can be a molecule expressed by the body as a response to tumor presence. The biomarkers are majorly genetic, proteomic, epigenetic or phenotypic in nature. Most of the cancer biomarkers can be assayed in noninvasive fluids such as blood & serum and are easily detectable without causing much pain.
Biomarker research is gaining high importance these days owing to its benefits such as accurate detection, easier diagnosis, and low chances of misdiagnosis during early cancer diagnosis. Comparison of cancer biomarkers at two different sites is very useful for identifying metastatic tumors. Many different types of biomarkers have been characterized earlier and are in use in many cancer diagnostic testing procedures. Some of these are associated with only one type of cancer while some are expressed in two or more types.
Global cancer biomarkers market, by application, 2016 (USD Billion)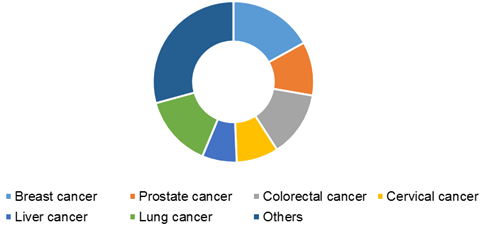 Cancer Market Scenario
Cancer has been second leading cause of death in the U.S. and around the world. Inefficient early diagnosis, low awareness, and unmet clinical needs are some of the major factors contributing to the growing base of this disorder. Globally, nearly 1 in 6 deaths occur due to some type of cancer causing 8.8 million deaths in 2015.
By 2030, the global burden of cancer is expected to grow to around 21.0 million new cancer cases and more than13 million deaths. Breast cancer is the most common type of cancer with an estimated of 250,000 new patients likely to suffer from it in 2017.
Rising Trend of Biomarker-Based Studies
Currently, a high number of biomarkers are present for specific type of cancers. Some of the widely used cancer biomarkers are as follows
- Lung cancer (EGFR, ALK gene, BRAF, PIK3CA)
- Breast cancer (HER-2, CA 15-3, CEA)
- Prostate cancer (Prostate-Specific Antigen)
- Colorectal cancer (Carcinoembryonic Antigen)
Biomarkers find a wide application in fields such as specific cancer diagnostics, drug development against such biomarkers, prognostic testing, and risk assessment studies. With advancement of technology, biomarker targeting drugs are coupled with appropriate companion diagnostics to monitor treatment response and recovery rate in individuals with different pharmacodynamics.
Asia Pacific- Immense Growth Opportunity for Generic Drug Industry
North America dominated the market owing to its high healthcare spending, established research base for development of novel cancer biomarkers, and increasing funding collaborations between research institutes.
Asia Pacific on the other hand is estimated to witness lucrative growth over the forecast period. Increasing clinical trials conducted in Asian countries, high capital investment from key players, growing medical tourism, and rising awareness amongst patients for early & accurate diagnosis are some of the factors affirming growth of cancer biomarkers in this region.
Key Market Players
The notable players in this market include Abbott Laboratories; F.Hoffmann-La Roche Ltd.; QIAGEN; Thermo Fisher Scientific Inc.; Affymetrix Inc.; Illumina, Inc.; Agilent Technologies; Merck & Co. Inc.; Hologic, Inc.; Sino Biological Inc.; and Becton, Dickinson and Company are some of the key players of the market. New product development and strong pipeline of drugs in clinical trials targeting biomarkers are the major strategies undertaken by these players to maintain their market position.

In-depth report on global cancer biomarker market by Grand View Research:
https://www.grandviewresearch.com/industry-analysis/cancer-biomarker-market