The increasing women population of age 35 to 65 years across the globe engenders a greater demand for anti-aging cosmetic and aesthetic treatments. Owing to the distinctive viscoelastic and moisturizing properties coupled with lower toxicity levels offered by hyaluronic acid-based products, the demand for this polymer in dermal fillers is expected to grow. In addition, its application in the treatment of vesicoureteral reflux is anticipated to grow due to the minimally invasive nature of the involved procedures. Thus, it is anticipated that the need for hyaluronic acid-based products will serve as a high impact driver for the hyaluronic acid products over the forecast period. According to the International Society of Aesthetic Plastic Surgery, in 2014, there were approximately 20 million cosmetic procedures performed globally, of which nearly 13.5% of the procedures were HA-based non-surgical procedures.
Global dermatology market revenue, by product, 2013-2024 (USD Million)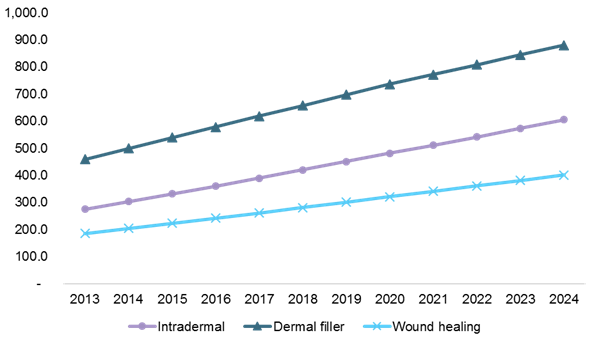 Some of the top countries recording a majority of the aesthetic treatments in 2014 were the U.S., Brazil, Japan, South Korea, Mexico, Germany, France, and Colombia. Medical tourism for cosmetic surgery in the U.S. plays a very important role in aiding the uptake of HA-based products and procedures, which is expected to drive the market in the coming few years.
According to the American Society for Aesthetic Plastic Surgery in 2012, Americans spent approximately USD 11 billion on cosmetic procedures, of which nearly 18%, 16.4%, and 4.4% was spent on injectable, skin rejuvenation, and nonsurgical procedures, respectively.
Table 1 Details on cosmetic procedures with hyaluronic acid in the U.S.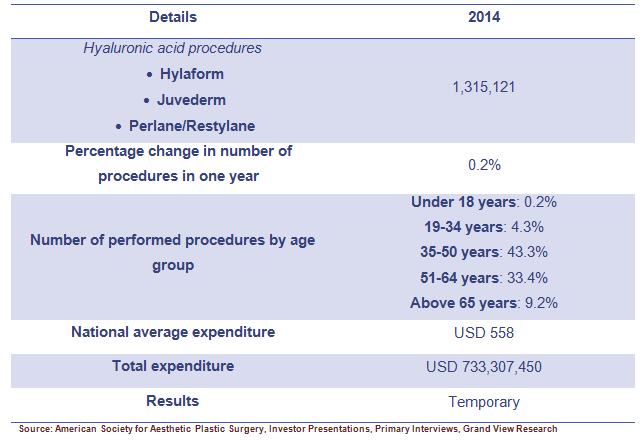 In-depth report on global hyaluronic acid (HA) raw material market by Grand View Research:
https://www.grandviewresearch.com/industry-analysis/hyaluronic-acid-ha-raw-material-market