HA - No Laughing Matter, This…
Nowadays, everyone, be it man or woman, teenager or adult, is focused on keeping their skin glowing and fresh. You might have seen advertisements about anti-ageing and anti-wrinkle creams and lotions on the television. This is a burgeoning industry right now, as manufacturers have managed to strike a chord with consumers through their attractive product features. However, there are products that may cause more harm than good for the skin. This causes people to discard the product, and then search for the next one. However, unbeknownst to us, the answer to keeping our skin ever-youthful (as the ads promise!) lies within our body itself, and it is called hyaluronic acid (HA).
If you are confused by the name, and doubtful due to the presence of the term 'acid' in it, you can rest easy. For this product is found naturally in our skin, where it holds water and performs the critical function of keeping our skin plump and hydrated. While helping retain moisture, hyaluronic acid also prevents this moisture from evaporating into the air. However, as we get older, the proportion of this acid in our body decreases. Fruits and vegetables rich in antioxidants can help stimulate production of HA in our bodies. However, usage of hyaluronic acid raw material in skin products has gained much traction, as the anti-ageing movement intensifies.
The Many Faces Of HA
The hyaluronic acid raw material market finds huge demand in a number of critical sectors. Its distinct properties are what have made it a sought-after product, not only in cosmetics but also in the pharmaceutical and medical industry. Some of the applications include:
In Ophthalmology - It finds use as a viscoelastic tool for ophthalmological surgeries, owing to its unique physicochemical properties. HA is useful during cataract surgeries, as it facilitates procedures, while also protecting the corneal endothelium. Besides this, hyaluronic acid raw material also find use in other ophthalmic applications such as keratoplasty, retinal reattachment, trabeculectomy, as well as treatment to relieve 'dry eye' disease symptoms.

In Dermatology - The acid is found in a number of skincare products that claim to combat wrinkles, and for good reason. Juvederm® and Restylane® are the two major dermal fillers that are used in wrinkle treatment. Wrinkles can be eliminated or temporarily reduced, with their effect lasting up to 1 year. Additionally, it is used to combat acne scars, while it is also very effective in cases of dry, cracked and thin skin.

In Orthopedics - Hyaluronic acid is hugely effective in cases of osteoarthritis, and is taken by people who can't use painkillers, or are unable to undergo total knee replacement surgery. Doctors refer to these injections as 'viscosupplementation'. Studies have shown that it provides better results than painkillers in certain OA cases.

In Medical Device Coatings - The product is used in hydrophilic coatings for a number of medical devices, which include catheters, sensors and guidewires. The device biocompatibility and lubricity can be improved, while also reducing tissue abrasion.

In Drug Delivery - Hyaluronan formulations, as well as its derivatives, have been developed as injectable, topical and implantable vehicles for the localized, controlled delivery of biologically active molecules.

In Surgical Adhesion Prevention - Adhesions may occur after abdominal operations, causing issues such as bowel obstruction, infertility, and chronic abdominal pain. A mechanical barrier composed of hyaluronic acid and carboxymethylcellulose is effective in preventing tissue adherence after abdominal surgeries.

In Healing Wounds - HA helps in faster healing of wounds, by regulating inflammation levels and signaling the body that it build more blood vessels in the damaged area. Additionally, it has anti-bacterial properties and are effective at combating gum diseases. It has been observed that through its application, there has been a reduction in wound size and decrease in pain.
Some Trends & Statistics
The increasing women population of age 35 to 65 years across the globe engenders a greater demand for anti-aging cosmetic and aesthetic treatments. Owing to the distinctive viscoelastic and moisturizing properties coupled with lower toxicity levels offered by hyaluronic acid-based products, the demand for this polymer in dermal fillers is expected to grow. In addition, its application in the treatment of vesicoureteral reflux is anticipated to grow due to the minimally invasive nature of the involved procedures. Thus, it is anticipated that the need for hyaluronic acid-based products will serve as a high impact driver for the hyaluronic acid raw material market over the forecast period.
According to the International Society of Aesthetic Plastic Surgery, in 2018, there were approximately 23 million cosmetic procedures performed globally, of which nearly 3.8 million procedures were HA-based non-surgical ones. This represented a jump of 11.6% from 2017, with all other types, except botulinum toxin procedure, showing a downward trend. Some of the top countries recording a majority of the aesthetic treatments in 2018 were the U.S., Brazil, Mexico, Germany, India, Italy, Argentina, and Colombia. Medical tourism for cosmetic surgery in the U.S. plays a very important role in aiding the uptake of these products and procedures, which is expected to drive the hyaluronic acid raw material market in the coming few years.
According to the American Society for Aesthetic Plastic Surgery, in 2018, Americans spent approximately USD 17.4 billion on non-surgical procedures, of which USD 11.55 billion was spent on injectables, USD 2.83 billion was spent on facial rejuvenation procedures, while other non-surgical procedures such as hair removal and sclerotherapy saw expenditures worth around USD 3.04 billion.
Global dermatology market revenue, by product, 2013 - 2024 (USD Million)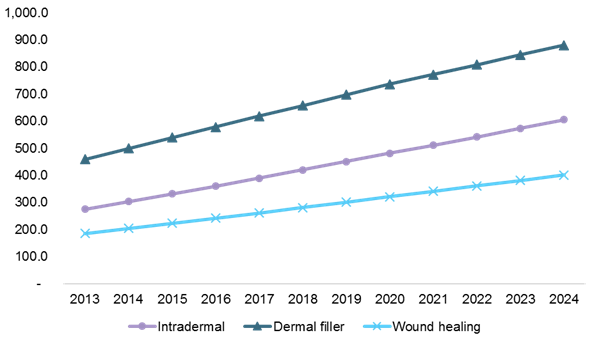 Recent Developments
Some of the key companies operating in the hyaluronic acid raw material market are Salix Pharmaceuticals; ALLERGAN; Lifecore Biomedical, LLC; Shiseido Co., Ltd.; Anika Therapeutics, Inc.; Smith & Nephew; Maruha Nichiro Corporation; Ferring B.V.; SEIKAGAKU CORPORATION; Genzyme Corporation; F. Hoffmann-La Roche Ltd.; Contipro a.s.; Zimmer Biomet, among others. Recent developments include:
Anika Therapeutics commenced the full commercial launch of its injectable HA-enhanced bone repair therapy, 'TACTOSET', in the United States, in December 2019. It has been developed for treating bone voids and other bone defects of the skeletal system caused due to age-related degeneration or trauma.

Ferring Pharmaceuticals announced in November 2019 that Blue Cross Blue Shield of Michigan Medicare Advantage and Commercial patients will have EUFLEXXA access as a co-preferred brand starting January 1, 2020. The product is effective in combating osteoarthritis knee pain.

In October 2019, Allergan launched three new OTC REFRESH® RELIEVA™ products - REFRESH® RELIEVA™, REFRESH® RELIEVA™ PF (preservative-free) multidose, and REFRESH® RELIEVA™ FOR CONTACTS. REFRESH® offers the only family of products in the United States that contain carboxymethylcellulose (CMC), hyaluronic acid (an inactive ingredient), glycerin, and HydroCell™ technology.

In-depth report on global hyaluronic acid raw material market by Grand View Research:
https://www.grandviewresearch.com/industry-analysis/hyaluronic-acid-ha-raw-material-market