Industry Insights
Global adhesion promoter market was valued USD 2.56 billion in 2015. Rising demand for better adhesion in the composites & plastics sector is projected to boost the market demand over the forecast period.
Technological innovations have introduced new avenues for high performance waterborne formulations & non-chlorinated promoters that provide higher versatility in curing, with improvised performance in applications such as printing inks, adhesives, plastics & composites, automotive and electronics.
Additionally, automakers are increasingly attempting to improve road safety and fuel economy by creating 'green tires' using adhesion promoters such as silanes in tread compounds. These silica-reinforced compounds are expected to replace petroleum-based carbon black and contribute sustainably to the environment.
The European Commission has also mandated 'tire labels' since November 2012, to inform consumers regarding the energy efficiency of tires in regard to lower fuel consumption, noise and CO2 emissions, and the overall safety when braking on wet roads. Major companies such as Evonik are actively working on refining the silane-silica system to improve adhesion promotion, which is crucial to their market growth.
In 2011, Momentive Performance Materials also announced intentions to expand their silanes production capacity, to meet the growing demand for these materials in rubber processing for tires with lower rolling-resistance, across North America and Europe.
Application Insights
Plastics & composites emerged as the leading application segment with a valuation of USD 836.1 million in 2015. These materials are mainly used to manufacture precision-engineered products, owing to advantageous product properties that include chemical resistance, light weight, and flexibility.
Plastic components needed to be painted, coated and joined with adhesive to prevent bond failure at the interface. Segment growth is likely to be driven by growing consumption of plastics in the automotive industry, to foster fuel savings by lowering overall car weight.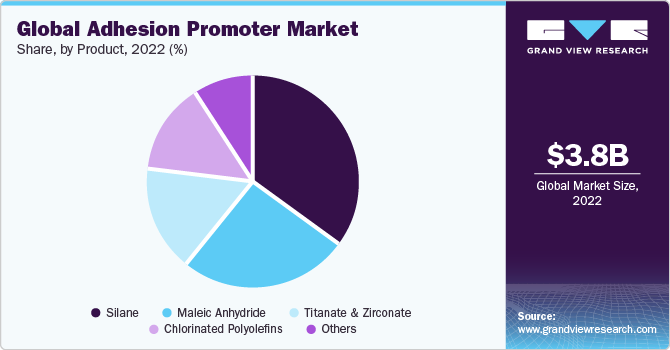 Paints and coatings are also likely to present lucrative opportunities for these promoters in construction & building materials. High product penetration is mainly on account of growing awareness regarding enhanced binding capabilities after application of the product. Increasing demand for architectural, automotive and industrial coatings shall also be a primary driving force in other applications over the forecast period.
The global demand for adhesion promoter market is expected to be propelled by rising demand from numerous industrial applications including automotive and transportation. Strong outlook of automotive and transportation sector in devlopng regions like Asia Pacific are expected to favor the market growth over forecast period.
Product Insights
The global adhesion promoter market is majorly segmented based on products as Silane, Chlorinated Polyolefins, Maleic Anhydride, and Titanate & Zirconate. Silane was the leading product segment accounting for over one-third of the overall market revenue in 2015, owing to high demand for paints & coatings, and rubber applications.
Traditionally, silane was used in composite materials as a coating on filler particles, in order to bind them to a resin matrix. It is also widely used as a coupling agent, to adhere fibers to certain polymers, thus stabilizing the composite materials. High demand for these products in applications requiring moisture, temperature and chemical resistance, is expected to foster segment growth.
Maleic anhydride is likely to emerge as the fastest growing product at an estimated CAGR of 7.3% from 2016 to 2024. The product is used to increase adhesion to polar surfaces while improving water resistance and alkali solubility at the same time. 
Regional Insights
Asia Pacific adhesion promoter market led the global industry and accounted for over 40% of the total market volume in 2015 and is expected to maintain its position over the forecast period. Growing popularity of these promoters in countries such as China, India, Japan and South Korea where construction activities are on the rise, is likely to foster regional growth.
Economic growth in the region has necessitated requirement of both institutional as well as commercial infrastructure spaces. Additionally, rising disposable income coupled with high passenger car sales has also fostered product demand in the automotive sector.
The North American adhesion promoter market is expected to grow at 5.4% CAGR over the forecast period, owing to increasing construction spending and a revitalized automotive sector, post recovery from the recession in 2009. Rapid infrastructural development in Mexico is also likely to drive growth in the region.
Adhesion Promoter Market share Insights
The global adhesion promoter market is fragmented in nature due to the presence of numerous small scale manufacturers and raw material suppliers. Some of the key companies operating in the industry include the 3M Company, Sartomer Inc., Momentive Performance Materials, Inc., Eastman Chemical Company, Akzonobel NV, Atlanta AG, Dow Corning Corporation, Arkema SA, Air Products & Chemicals, Inc., BASF SE, Evonik Industries AG and DuPont.