Industry Insights
The global advanced carbon materials market size was 58.3 kilo tons in 2015. Rising demand for composites in automotive, construction, aerospace & defense and electronics sectors is expected to promote industry expansion.
Carbon fibers, nanotubes, graphene, structural graphite, and carbon foams are majorly used engineering materials on account of exhibiting superior properties including excellent stiffness, high tensile strength, low thermal expansion, and good temperature tolerance.
Germany advanced carbon materials market volume, by product, 2013 - 2024 (Tons)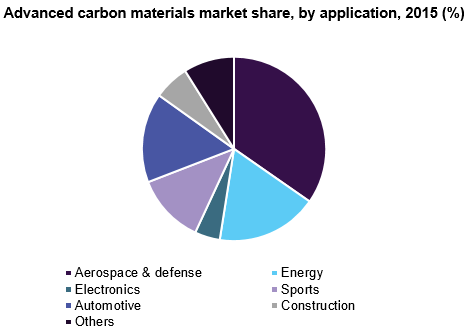 Rising demand for reinforced plastics in automotive and construction sectors in emerging economies including China, India, Mexico and Middle East countries in light of application growth of new products including fiberglass is expected to promote the usage of carbon fibers. Furthermore, increasing expenditure by automotive companies including Volkswagen and Ford towards the development of lightweight composites for inducing fuel economy characteristics in the finished products is expected to stimulate demand.
Rising awareness towards the importance of these products in the electronics industry as they offer excellent electrical properties and lightweight characteristics is expected to play a crucial role in increasing the market penetration. Furthermore, positive outlook towards the construction sector in the U.S. and Canada as a result of regulatory inclination to promote investments in for residential complexes is expected to increase the use of composites which in turn will fuel growth over the next eight years.
Over the past few years, companies including Showa Denko, Hyperion, and Cnano Technology have increased expenditure for the development of carbon nanomaterials including graphene and carbon nanotubes, which will stimulate industry expansion. Increasing government funding towards nanotechnology research in the U.S., Germany, Netherlands, Japan and China is likely to result in the development of new advanced nanomaterials.
Rising market visibility of other nanomaterials including nanoclays, metal oxide particles, and quantum dots as fillers for manufacturing engineering goods is expected to pose a threat to the growth of these advanced materials. Furthermore, heavy reliance on crude oil prices is expected to remain a challenging factor over the next eight years.
Product Insights
Carbon fibers accounted for 88.6% of the global volume in 2015. The predominant consumption of the product for manufacturing composites used in automotive, construction, electronics and energy application will propel industry growth. Furthermore, rising concerns over galvanic corrosion issues associated with the usage of aluminum in aerospace applications are expected to promote the demand for fiber-based composites over the next eight years.
Carbon foams are projected to foresee fastest volume growth at a CAGR of 9.1% from 2016 to 2024. The segment growth is attributed owing to the increasing demand for the product as a battery material. Moreover, ongoing development of nanofoams and fireproof foams will create immense market potential over the upcoming years.
Application Insights
Aerospace & defense accounted for 34.2% of the overall volume in 2015. Companies including Mitsubishi Heavy Industrial Limited have been focusing on the development of composite-derived wing box to reduce the overall aircraft weight. Furthermore, military aircraft manufacturers including Augusta Westland are increasingly using flexible integrated circuits to operate even at high temperature. The abovementioned factors are expected to promote the usage of advanced materials over the next eight years.
Automotive is expected to witness the fastest growth at a CAGR of 8.1% from 2016 to 2024. Increasing vehicle manufacturing output in emerging markets including China, India, Mexico and Iran on account of the regulatory initiative to promote investments coupled with increasing sales of SUVs is expected to encourage the usage of carbon materials as fillers.
The market demand for energy was 10.3 kilo tons in 2015 and is projected to gain momentum in light of increasing use of the product in wind turbine blades for providing good tensile strength and enhanced durability.
Regional Insights
Europe was the largest market, accounting for 29.3% of the global volume in 2015. High prevalence of aerospace manufacturing facilities of Boeing, Augusta Westland, Bell Helicopters in France, Germany, UK and Russia as a result of easy accessibility of consumables is expected to have a positive impact on the industry.
Asia Pacific is projected to witness significant volume growth at a CAGR of 8.5% from 2016 to 2024. Regulatory inclination towards increasing energy output from renewable sources including wind and solar, in China, coupled with the implementation of the "Document 625 Policy" by the Sino Government is expected to open new markets avenues over the next eight years.
Competitive Insights
Key industry participants include Hexcel, Zoltek, MItsbuishi Rayon, Toray Industries, Showa Denko K.K., Toho Tenax Co. Ltd., Arkema S.A., Graphenea, Hanwha Chemical, FutureCarbon, and Nippon Graphite Fiber Corporation. Product innovation regarding the development of durable and lightweight materials is expected to remain a critical success factor for the market players. Furthermore, the majority of companies are likely to establish their production units in vicinity to the U.S., Germany and Japan in light of easy access to nanotechnology infrastructure.