Industry Insights
Global bio-succinic acid market size was estimated at USD 137.0 million in 2013. It is being increasingly used in a wide range of applications including BDO, PBS/PBST, and polyester polyols. Increasing demand for BDO and its derivatives including Tetrahydrofuran (THF), Gamma-Butyrolactone (GBL), and Polybutylene Terephtalate (PBT) in numerous applications such as pharmaceuticals and engineering plastics is likely to stimulate the demand. In addition, growing applications in lubricants, pigments, personal care products, and food colorants will spur the market penetration.
Europe bio-succinic acid market revenue by application, 2012-2020, (USD Million)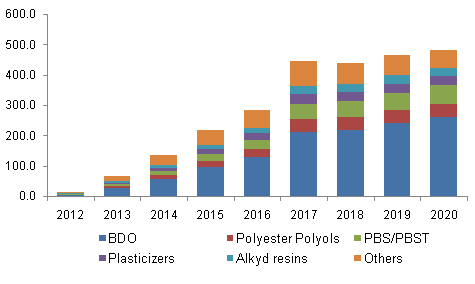 Growing awareness regarding the benefits of using bio-based chemicals in packaging and food industry is expected to drive the demand. Increasing use of bio-succinic on account of reduction in carbon footprints along with favorable regulatory support in light of rising awareness towards hazards associated with usage of petroleum-based chemicals is expected to augment market growth. Bio-succinic acid can be used as a replacement to phthalic anhydride in manufacturing alkyd resins and offers cost-effectiveness and environmental advantages, which in turn will propel its growth over the next six years.
Europe and North America will witness immense growth as bio-succinic acid significantly lowers CO2 emissions. Asia Pacific is expected to witness substantial growth on account of increasing number of manufacturing plants in Thailand, China, and South Korea. Rising awareness regarding depleting crude oil reserves coupled with the hazards of excessive carbon dioxide in air is expected to drive the bio-based chemicals demand.
High cost for bio-succinic acid along with low availability of feedstock is expected to restrain market growth over the next six years. Extensive R&D in manufacturing process by various companies in terms of reducing production cost and increasing efficiency is further expected to offer new growth opportunities over the forecast period.
Application Insights
BDO dominated the global market accounting for over 35% of the overall demand in 2013. Growing consumption of BDO in engineering plastics, cleaning products, pharmaceuticals, coatings, adhesives and sealants is expected to fuel market growth. Replacement of MAN by bio-succinic acid is expected to drive its demand tremendously in BDO over the forecast period.
Polyester polyols accounted for significant revenue share on account of growing polyurethanes demand. In addition, its growing use in molded foams, soles in footwear, automotive interiors, and as adhesives and sealants is likely to increase polyester polyols market share. PBS is expected to grow with fastest CAGR of 38.9% from 2014 to 2020 owing to excellent growth potential in packaging coupled with increasing demand for bio-plastics.
Regional Insights
Europe bio-succinic market accounted for over 45% of the global volume share in 2013. Regulatory pressure exercised by numerous agencies for reduction of green house gas by 20% by 2020 is expected result in augmenting market growth over the forecast period.
Asia Pacific bio-succinic acid market was valued at USD 40.4 million in 2013, and will witness the fastest growth in light of growing industrialization along with rising demand for bio-succinic acid in plasticizers, BDO, polyester polyols, and alkyd resins in countries such as India and China. Growing awareness regarding the hazards of synthetically derived PET in developed economies of North America and Europe is expected to result in an increased demand.
Asia Pacific, particularly China, held the largest PET production share in 2013, and is expected to witness significant demand for bio-succinic acid owing to the demand from clients located in North America and Europe. Brazil and Chile are expected to witness significant growth as a result of extensive demand for bio-succinic acid in plasticizers and BDO application.
Competitive Insights
Global bio-succinic acid market was dominated by three companies, Succinity, BioAmber, and Reverdia. BioAmber and Succinity accounted for over 55% of the market share in 2013. BioAmber Inc. offers Bio-SA, which is used in various applications including lubricants, solvents, heat transfer fluids, food ingredients, personal care products, resins, and coatings.
In June 2013, Myriant Corporation along with Johnson Matthey-Davy Process Technologies announced a carbon-efficient and cost-competitive process for the production of BDO and tetrahydrofuran (THF). In May 2013, Myriant commenced commercial production of bio-succinic acid at its new plant in Leuna, Germany with an annual capacity of 3 million pounds. The plant was started as an alliance between Engineering, Procurement, and Commissioning (EPC) company, Thyssenkrupp Uhde, and Myriant Corporation in 2009.