Industry Insights
The global bioinformatics services market was valued at USD 1.32 billion in 2015. The industry is anticipated to be driven by increasing government initiatives and funding for genomics oriented R&D, growing application of the technology in drug discovery as well as biomarker development processes. Furthermore, progressive reduction in cost of DNA sequencing is also a significant driver for the projected progress in this industry.
Rise in demand for integrated data solutions in order to manage huge amounts of data generated from high throughput sequencing and associated technologies have poised the bioinformatics services market to exhibit potentially high value avenues and opportunities for growth over the forecast period.
North America bioinformatics services market, By type, 2013 - 2024 (USD Million)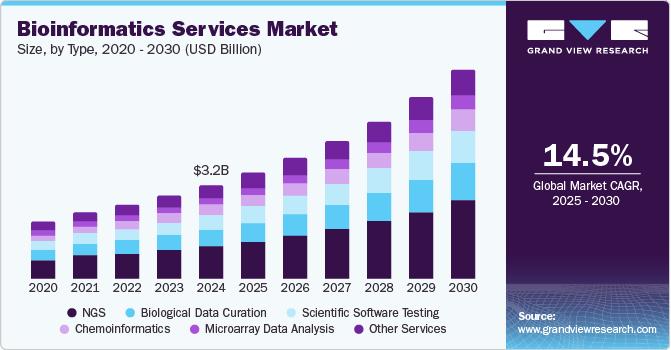 Increasing R&D investment in the fields of metabolomics, proteomics, and transcriptomics are expected to boost the demand for I.T. applications as well as data storage and analysis capabilities. Proteomics and genomics operate with large arrays of structural information that need to be collected, sorted, and processed to extract information. The technology enables ease in storing and handling this large amount of information consequently increasing its usage rate.
Development of information and communication technology (ICT) infrastructure by operating entities or through relocation of data services routing via cloud computing and essentially employing a third party to maintain it, in order to satisfy emerging demand are factors expected to drive R&D in this sector consequently influencing sector progress through to 2024.
However, certain factors such as dearth of skilled personnel who can ensure proper use of bioinformatics tools coupled with lack of data integration are anticipated to impede progress of this industry. Manufacturers & providers of such solutions & services are anticipated to witness challenges pertaining to high volume statistics management and industry consolidation.
Type Insights
By type of services provided, the market can be categorized into NGS, chemoinformatics, microarray data analysis, biological data curation, and scientific software testing services. NGS constitutes of targeted sequencing, transcriptome, whole genome, chip seq, de-novo assembly, and methyl Seq analysis.
In 2015, NGS held over 40% of the market share owing to increase in its adoption due to reduction in the costs of sequencers coupled with growing application of sequencing technology in enabling faster R&D in fields of precision medicine, biomarker development, and disease prognosis.
Chemoinformatics is anticipated to witness the fastest growth owing to expected upcoming advancements in high performance computing, molecular modeling, and web services that are employed in the process of computer aided drug design.
Application Insights
This sector is segmented based on bioinformatics application, in genomics, transcriptomics, metabolomics, proteomics, and drug discovery. Growing demand for real time disease management and adoption of preventive medicine and personalized healthcare are amongst the key factors that are expected to drive demand in the sector over the forecast period.
Moreover, transcriptomics is anticipated to grow at a relatively faster rate owing to rise in the number of research projects in the field of transcriptomics and introduction of technological advancements for the study of RNA transcripts using bioinformatics based protocols.
End-use Insights
Depending on the field served, the industry segmentation comprises agriculture, animal, medical, and academic users. The academic sector is anticipated to register the fastest progress exhibiting a double-digit CAGR owing to higher demand for these solutions by the universities for the purpose of a number of ongoing research projects.
Regional Insights
In 2015, North America was dominant in the regional industry with a share of over a third of the total revenue. Well defined regulatory framework is responsible for higher penetration in industry participants which subsequently leads to generation of industrial revenue. Simultaneous development of next generation sequencing and chemical laboratories in the region is the highest impact rendering factor for the high penetration of drug discovery based informatics services, ultimately boosting revenue generation.
The Asia Pacific bioinformatics services market is expected to register the fastest growth with a double digit expected growth rate from 2016 to 2024 owing to improvement in health care infrastructure coupled with development initiatives taken up by pharmaceutical companies operating in this region. Asia Pacific serves as a considerable pool of patients with respect to infectious diseases and thus is expected to drive the sector growth.
As this region contributes to 60% of the world's total population, even a low prevalence translates into large numbers of infected people. Emerging economies such as India and Australia also contribute towards the revenue share and progress of rest of Asia Pacific region. As outsourcing of the services is gaining momentum, a growing number of Asian countries are involved in creating the infrastructure that is expected to influence revenue generation in this sector by the virtue of government investment and academic innovation.
Competitive Insights
Major entities operating in the bioinformatics services market include Accelerys Inc, Qiagen Inc., GVK Biosciences, Illumina Inc., Agilent technologies, Life Technologies Corporation, Celera Corporation, IBM Life sciences, Affymetrix, DNAnexus, and Geneva Bioinformatic.
These participants are involved in strategic collaborations with different information technology companies in order to enhance their presence by providing the customer base with enhanced information management solutions. For instance, in November 2014, GVK BIO underwent a tie-up with CTC Life Science Corporation. This initiative is anticipated to strengthen the relationship between two firms and enhance market presence of GVK by enabling marketing and distribution of the clinical data management products such as GVK BIO's GOSTAR and GOBIOM along with custom curation services.
Analyst Perspective
This study consists of different services in the field served in various sectors. These services hold significant potential in development of treatment and disease eradication by enabling incorporation of novel IT solutions for the introduction of novel diagnostics, prognostics, and therapeutics. The report provides detailed analysis pertaining to the drivers and limiting factors for industrial progress.
The bioinformatics services market is forecasted comprehensively and quantitatively in order to provide insights to the stake holders for understanding the upcoming opportunities in different fields of this sector. Furthermore, the presence of outsourcing demand in the market also serves to poise it with lucrative opportunities for growth to third party service providers. Development of market estimates and forecasts is determined by considering several variables, some of which include the presence of research programs, costing for the service involved, and adoption of given services.