Industry Insights
Global cell banking outsourcing market size was valued at USD 2.93 billion in 2014 and is expected to grow at an estimated CAGR of 16.4% from 2015 to 2022. Key growth drivers include the rising advancement of cryopreservation and cell banks preparation methodologies, increasing adoption of stem cell therapies, and growing demand for monoclonal antibodies and effective biopharmaceuticals.
The industry involves the collection, storage, characterization, and testing of cells, cell lines, and tissues. It is yet to gain its complete market potential. Advantages associated with cell banking include the availability of cell lines that play a significant role in clinical R&D, production of biopharmaceuticals with maximum effectiveness and minimal adverse events.
U.S. cell banking outsourcing market, by cell type, 2012-2022 (USD Million)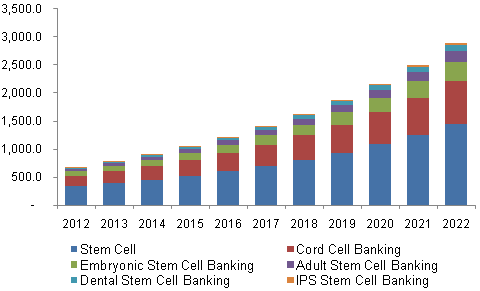 Furthermore, development of precision and regenerative medicine, and treatment of chronic infections diseases using stem cell therapy are expected to propel the growth of this market. Stem cell banking market accounts for a large share of the market owing to widespread usage across the globe.
Bank Type Insights
Master cell banking accounted for the largest share of revenue in 2014, as their preparation is a prerequisite for production and usage of working cell banks. They are preserved for a significantly longer duration, which also attracts the application of high-grade cryopreservation methodologies and equipment thereby further expanding the revenue base for this segment.
Furthermore, master cell banks find applicability in various research and development perspectives for stem cell therapy and gene therapy. Rising incidences of autoimmune diseases and cancer that can be treated by use of the aforementioned therapies in combination with regenerative medicine is a key factor expected to fuel the growth of this segment over the forecast period.
Type Insights
Cell banking market comprises of either pluripotent or somatic cells obtained from different organ sources which include stem and non-stem. Stem cells are obtained from cord blood, embryonic, adult, dental, and IPS cells, while non-stem include somatic cells preserved for applications such as tissue engineering and IPS cell development.
Cord cell banking accounted significant market share with respect to revenue in 2014 and their large share can be attributed for by the rise in the number of cord blood banks & cord cell banking services across the globe. Cord blood provides significant advantages, which include serving as a source of hematopoietic stem cells, donor convenience, minimized risk of graft versus host diseases, low risk of viral contamination and immediate availability.
Non-stem cell banking involves biobanking of somatic cells, which are used in tissue engineering and organ replacement therapies. However, restricted levels of present day therapeutic cloning and the inability of these cells to reactivate genetic function are factors accounting for their lesser share as compared to that of stem cells.
Banking Phase Insights
In terms of phases, the market is segmented into cell bank preparation, bank storage, and bank characterization and testing. Of these, storage accounted for the largest share of revenue owing to sophisticated preservation needs which are a prerequisite to the proper maintenance of either master cell bank or working banks. Technologically advanced cryopreservation techniques are expected to fuel the growth of this market throughout the forecast period.
Bank storage in cell banking encompasses preservation of both master and working cell banking, and their respective safety testing. It is expected to witness lucrative growth over the forecast period owing to the presence of increased research in cell line development coupled with the presence of market players that are involved in providing outsourcing services for cell banking and cell line storage to different hospitals and clinical research organizations.
Regional Insights
North America dominated the market in 2014, with revenue estimated over USD 1.5 billion owing to the presence of biopharmaceutical manufacturers, rising production of vaccines, therapeutic proteins, and antibiotics.
Regulatory authorities such as FDA, WHO, EMEA, and International Conference on Harmonization of technical requirements for registration of pharmaceuticals for human use (ICH) facilitate cell culture and research practices worldwide.
The presence of favorable government initiatives pertaining to the R&D for development of stable cell lines, the introduction of new technology for storage and characterization of cell lines are amongst the critical factors expected to boost market growth over the forecast period.
Competitive Market Share Insights
Key cell banking outsourcing market players include BioReliance, BioOutsource (Sartorious), BSL Bioservice, Cleancells, Charles River Laboratories, Covance, GlobalStem Inc., Goodwin Biotechnology Inc., Lonza, PX'Therapeutics SA, SGS Life Sciences, Texcell, Toxikon Corporation, Wuxi Apptec, Reliance Life Sciences, LifeCell International Pvt. Ltd., Cryobanks International India, Cryo-Cell International Inc., Tran-Scell Biologics, Pvt. Ltd., and CordLife