Industry Insights
The data center UPS market is expected to witness steady growth owing to increased adoption of UPS solutions in businesses to counter falling tolerance limits pertaining to data loss and disconnections in data transmission. Losing power for even a quarter of a second can result in the unavailability of IT equipment for a considerable amount of time. Increased demand from key application areas such as application servers, cloud storage, Customer Relationship Management (CRM) systems, Enterprise Resource Planning (ERP) systems, data warehouses, and file servers is expected to bolster demand.
Global data center UPS market by product, (USD Million), 2012 - 2020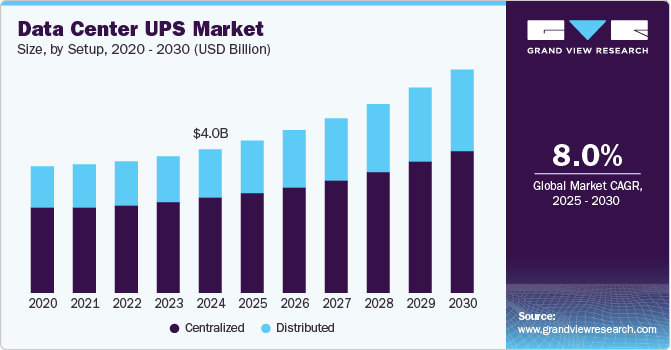 Growing implementation of cloud computing coupled with the need for sensitive and ubiquitous data has encouraged data center UPS installations. The industry has been buoyed by increased adoption of mobile computing services, online services, and remote access services. Small and medium businesses (SMBs) can save the cost required for building their data warehouses by taking advantage of data centers and backup solutions. Other factors boosting the data center UPS market growth are increased adoption of Software as a Service (SaaS), high-performance computing, online gaming and online media streaming. The use of portable UPS systems has gained prominence, which is further expected to boost data center UPS market growth.
The market has been affected by slow technological developments in the wake of the economic downturn. Intense competition coupled with the lack of product differentiation has constrained market potential. The slowdown of the semiconductor market has resulted in a lack of efficient inventory supply for data center UPS systems, thereby posing a challenge to market growth. The data center UPS market can achieve growth by maintaining product reliability, efficacy, and customer relationship. Innovation in the sector is expected to be a vital opportunity for the market.
Product Insights
The data center UPS market has been segmented on the basis of rated capacity into small (20 kVA to 200 kVA), medium (200.1 kVA to 500 kVA), and large (above 500 kVA) data centers. Small data centers are expected to dominate the market as they suffice the requirements of SMBs, owing to which they are predominantly used. Typical application areas of small data centers include server rooms, enterprise data centers, factory floors, industrial environments, localized and mid-tier data centers, and medical imaging. The medium and large data center UPS market is expected to witness high growth as an increasing number of organizations have grown and resorted to up-scaling their equipment.
Regional Insights
North America led the market in terms of revenue in 2013 and is expected to witness significant growth over the forecast period. Healthcare, financial services, and insurance have been the key contributors to North America market growth. Due to migration and acceptance of high availability computing, companies are beginning to address their data center footprint and opportunities to optimize their assets.
Organizations across Europe are bound by regional data laws complicating decisions pertaining to availing outsourcing services, owing to which the data center location is of crucial importance to users. UK, France, and Germany are expected to account for considerable market revenue in Europe. Asia Pacific is also expected to witness high growth from 2014 to 2020.
Competitive Insights
Major players such as Schneider Electric, Emerson Electric, and Eaton Corp. have undertaken measures to increase their market share through inorganic growth, which has resulted in steady market growth. Mergers, acquisitions, and strategic alliances have been a highlight of the data center UPS market in order to access untapped markets and enhance market presence worldwide. Manufacturers have emphasized on improving the efficiency of data center UPS systems. For instance, in October 2014 Chinese telecom network supplier Huawei launched a modular data center UPS, claiming 97% efficiency. Other key vendors in the industry include Clary Corp., Schneider Electric SA, Toshiba Corp., General Electric, Belkin International Inc., and Gamatronic Electronic Industries.