Industry Insights
Global DDDA market is anticipated to grow on account of its increasing demand in manufacturing nylon 6,12, adhesives, powder coatings, and paints. It is used as a key raw material for the production of nylon 6,12. Nylon 6,12 is used in a wide range of applications including polyesters, greases, coatings, detergents, adhesives, and fragrances. Increasing dodecanedioic acid demand for paints and powder coatings owing to its high effectiveness coupled with the expansion of the end-use industries is expected to drive the market over the forecast period.
Global DDDA market, by product, 2012 - 2022 (Kilo Tons)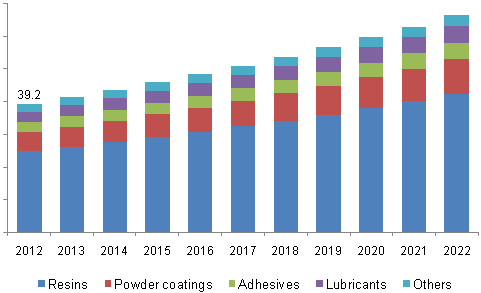 Nylon 6,12 is used in the production of high-performance thermoplastics owing to its heating abilities. This has resulted in an augmenting demand for nylon 6,12 over the past few years, and this trend is expected to continue over the forecast period. DDDA is used in the production of corrosion inhibitors, which are extensively used in water treatment, pulp & paper, chemical facilities and other industrial facilities. Rise in focus on protective coatings in the past few years has resulted in significant growth of the chemical in the recent times. Increasing demand for paints containing zero volatile organic compounds has contributed to the growth of the global dodecanedioic acid industry.
Application Insights
Resin applications were the largest segment, accounting for over 60% of the global volume in 2014. Increasing penetration of nylon in various applications including fabrics, screws and gears is expected to fuel the growth of resins during the forecast period.Rising R&D expenditure by nylon manufacturers towards product innovation is expected to have a positive impact on the market in the near future. Furthermore, growing demand for bio-based specialty polymers including nylon 6,12 is expected to augment bio-based DDDA market growth over the next seven years. In line with the growing demand for bio-based products, numerous manufacturers including Verdezyne and Cathay are focusing on developing bio-routes for manufacturing. Verdezyne constructed the first bio-based DDDA plant in Malaysia in 2014. The bio-based product is anticipated to replace approximately 30% of the petroleum-based product industry over the next few years
Powder coatings applications are expected to witness the fastest growth as compared to its counterparts over the forecast period. Expansion of industrial paints and coatings sector in BRICS and Middle East on account of excellent qualities such as heat resistance and providing flexibility to polyesters is expected to drive powder coatings market. Powder coatings have numerous advantages over conventional liquids such as high-quality finish, higher resistance to corrosion, chipping and abrasion and protection from chemicals, moisture, and heat. In addition, powder coatings are solvents free resulting in negligible emissions of volatile organic compounds (VOC) which in turn makes these products environmental friendly. This results in organizations such as the EPA and REACHES promoting the use of powder coatings over conventional materials. Also, powder coatings possess hydrolytic resistance owing to the presence of DDDA. Expansion of powder sector in emerging markets of China and India on account of application growth in chemical, automotive and construction industries, is expected to fuel demand for the chemical. As a result, powder coatings manufacturers are expected to use DDDA in the near future.
Regional Insights
North America and Europe DDDA market together dominated global demand, accounting for over 45% of the overall volume in 2014. The emergence of Mexico as an automotive manufacturing hub in light of vicinity to the U.S. market along with growing domestic consumption is expected to fuel demand over the forecast period. Low growth of nylon production in Germany, France and Italy in light of high manufacturing cost is expected to result in the stable growth of the Europe DDDA market over the forecast period. Asia Pacific dodecanedioic acid market is expected to witness the fastest growth over the next seven years on account of the expanding industrial manufacturing base, particularly in China and India. The robust manufacturing base of nylon in China, Japan and India along with increasing demand for industrial paints and powder coatings are anticipated to augment market growth shortly. The commitment of numerous governments towards the safety of environment is expected to increase production of bio-based DDDA in the region and have a favorable impact on the market over the projected period.
Competitive Insights
Verdezyne, Invista, BASF SE, UBE Industries, Cathay Industrial Biotech, Santa Cruz Biotechnology. Invista, Cathay, Evonik and Ube dominated the global DDDA market share in 2014. Numerous manufacturers are exploring bio-based routes for manufacturing DDDA on account of growing demand for eco-friendly products such as powder coatings, adhesives, lubricants, and nylon. In November 2014, Verdezyne announced plans to establish a new production facility in Malaysia for producing bio-based DDDA on a large scale.