Industry Insights
Global flame retardants for aerospace plastics market was estimated at USD 17.9 million in 2014. The industry is characterized by increasing plastics usage in the aerospace sector and growing safety concerns regarding the flammability of these materials. Confined spaces in aircraft make it imperative to minimize fire hazards and boost passenger and cargo safety, by integrating flame retardants into plastics which are rapidly replacing most conventional materials in the aerospace sector.
The introduction of non-halogenated retardants such as antimony oxides, alumina trihydrate, and organophosphates has opened up new avenues for growth, even in developed markets that are hampered by stringent regulations. Carbon fiber reinforced plastics (CFRP) has been a major consumer of flame retardants with these composites finding application in a variety of airplane components that range from the cockpit to empennage.
Plastics are widely used in aerospace decks, wings, airframes, cabins, rotor blades, cushion foams and other interior components. High performance engineered products such as glass reinforced plastics (GRP), polyimides, polycarbonates and even epoxies are rapidly gaining importance over conventional materials such as metal and wood, on account of their light weight, versatility, flexibility, low maintenance and high resistance to chemicals and pressure.
The integration of these additives into several plastics has made them impervious to high temperatures as well, making them ideal for intense aerospace applications that require high-temperature resistance in outer surfaces. The latest Airbus A380 has also utilized plastic fiber composites for its wing boxes, reducing overall plane weight by around 1.5 tons. Other modern airplanes developed by Boeing are also integrating up to 50% plastic composites into airplane components as an attempt to lower weight and emissions.
Increasing regulatory interventions by the U.S. EPA, European Commission and the National Fire Protection Agency (NFPA) have led to the development of several non-halogenated, non-toxic fire suppressants and retardants. Numerous eco-labels such as Germany's 'Blue Angel' and the TCO-label in Sweden are further likely to contribute to sustainable growth in the flame retardants for aerospace plastics market, especially for non-halogenated products.
North America flame retardants for aerospace plastics market revenue by product, 2012-2022, (USD Million)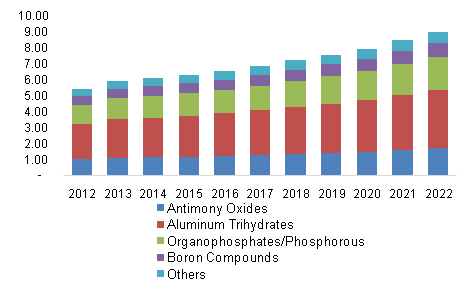 Countries such as China, India, U.S., Brazil, and Argentina are some key consumers, where the aviation industry is expanding at a rapid pace. As per IATA estimates, air passenger traffic was 5.9% higher in 2015 than the previous year. Development of new trade routes, increasing consumer disposable income and transitioning consumer lifestyles are other factors promoting growth in the aviation industry, subsequently boosting flame retardants demand.
Product Insights
Flame retardant additives permitted and utilized in aerospace plastics include antimony oxide, aluminum trihydrate (ATH), organophosphates/phosphorous and boron compounds among others that include nitrogen, molybdenum and magnesium hydroxide. ATH is a low-cost compound, found abundantly in nature and most widely utilized across plastics in aerospace applications.
Red phosphorous, ammonium polyphosphate and other organophosphates emerged as the fastest growing product owing to high demand in intumescent coatings, polyamides, and other aerospace plastic applications. The segment is likely to grow at an exponential CAGR of 5.9% in terms of volume from 2015 to 2022.
Application Insights
On the basis of application, the global industry has been segmented into CFRP, GRP, polycarbonate, thermoset polyimides, acetal/POM, epoxies and others such as polyphthalamide (PPA), polypropylene (PP) and polybutylene terephthalate (PBT).
CFRP was the largest application segment, occupying over 30% of the global volume in 2014. The material is widely utilized across the aerospace sector to manufacture airframes and primary structures, such as in the Boeing 787. CFRP offers up to 20% weight savings and is expected to grow at highest CAGR of 5.8% over the forecast period.
Regional Insights
Regional markets analyzed in the report include North America, Europe, Asia Pacific, and the Rest of the World (RoW). On a global level, Europe accounted for over 40% of the overall industry in 2014.
Growth in the region was promoted by the presence of major airline companies such as Boeing and Airbus, among others such as Rolls Royce Holding and the Safran Group. However, the European airspace and manufacturing sectors are strictly monitored, leading to a decline in production of halogenated retardants and challenging growth for other additives.
Rising consumer disposable income and growing interest in travel & tourism have boosted the development of the aviation industry in India, China, Thailand and other emerging economies. Flame retardants are increasingly being consumed for plastics used in aircraft manufacturing across Asia Pacific. The region is likely to witness the highest growth rate of 7.2% CAGR from 2015 to 2022.
Competitive Insights
The global flame retardants for aerospace plastics industry is characterized by multinational companies that are integrated along the value chain from manufacturing chemicals to providing flame retardants. Major participants include Clariant Corporation, Huber Engineered Materials, RTP Company, Italmatch, Albemarle, Chemtura, Ciba, DIC Corporation, Rio Tinto, Royal DSM, Israel Chemicals, Sinochem, Solvay, and BASF.