Industry Insights
Global Metallic Pigments Market size was USD 773.5 million in 2014. The industry is characterized by increasing demand for high performance pigments with eco-friendly attributes in major applications such as coatings, printing, cosmetics and building materials.
Growing consumer demand for specialty products and attractive packaging has made metallic pigment an ideal option for printing decorative labels and eye-catching graphics. Printing ink manufacturers have been increasingly incorporating these pigments into various formulations to offer fashionable, durable and long-lasting special effects for flexible packaging & other applications.
Automotive paints and industrial coatings have been major consumers and are likely to generate even higher demand owing to economic recovery & increasing acceptance of aluminum pigments in low VOC formulations.
Development of innovative metal oxides with unique substrate layering and new flake technology has opened up lucrative avenues for growth, even in developed markets that are hampered by stringent regulations.
Metallic pigment, or metallics, is widely used in personal care products and cosmetics to manufacture high quality, dermatologically safe make-up and skin care solutions. High performance zinc-copper blends offer unique & long-lasting gold-bronze effects to various cosmetics, leading to rapid growth in this product segment.
Metallics have been rapidly gaining importance over conventional solid colors, on account of their sustainability, versatility, compatibility, low maintenance and high resistance to chemicals &degradation.
Increasing regulatory intervention by the Swiss Ordinance and REACH in Europe, tightening VOC and environmental legislations in China, and growing concerns globally regarding pigment migration in packaging inks are likely to hamper market growth over the forecast period.
Heavy metals such as cadmium & chromium are also being phased out by manufacturers owing to environmental and toxicity concerns associated with exposure to these metals in cosmetics, paints, construction materials and related applications.
U.S. Metallic Pigments Market Revenue by product, 2012-2022, (USD Million)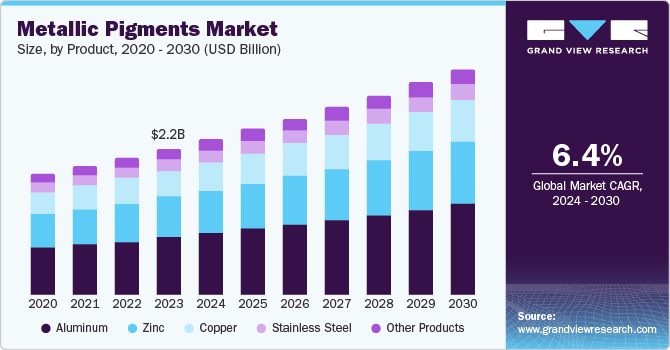 Emerging economies such as India, China, Brazil, and Argentina are major pigment consumers, where the automotive & manufacturing sectors have been expanding at a rapid pace in the recent past. Automotive sales across the globe have witnessed significant growth from 42 million in 2012 to 45 million in 2015. Metallics, especially aluminum pigments, are increasingly being adopted in numerous high sheen powder coatings and paints to impart special effects to vehicles.
Product Insights
The metallic pigment can be classified depending upon the base metals used in the production process, which include aluminum, zinc, copper, stainless steel and other heavy metals such as cadmium, chromium and iron oxides.
Aluminum occupied the highest market share of over 40% in 2014 and are available in various grades such as leafing, non-leafing, and vacuum metallized. Growing acceptance of the product in automotive paints & coatings on account of high metallic luster and durability is likely to boost market growth at CAGR of 5.5% from 2015 to 2022.
Copper & zinc also witnessed high demand on account of rising consumer preference for unique gold-bronze color effects, especially in cosmetics. The copper segment is anticipated to emerge as the fastest growing product at a CAGR of 5.7% over the forecast period.
Application Insights
The global industry has been segmented on the basis of application into paints & coatings, plastics, printing inks, cosmetics and others that include food, paper, textiles & construction materials.
Paints & coatings occupied over 45% market revenue share in 2014, on account of growing construction activities in emerging economies to support a burgeoning population, coupled with stringent regulations encouraging low VOC content in paints.
Increasing focus on beauty & appearance, coupled with rising preference for unique color effects & brilliant finishes led to the fastest growth in the cosmetics sector. The segment is expected to grow at an exponential CAGR of 6.9% to occupy over 10% volume share by 2022.
Regional Insights
Asia Pacific Metallic Pigments Market led the global industry and accounted for over 35% in 2014, owing to high product penetration in expanding end-use industries such as packaging, plastics and automotive. The region is also anticipated to emerge as the fastest growing market over the forecast period.
Increasing urbanization and evolving fashion trends are contributing to high product demand in Central & South America and the Middle East & Africa. Rapid industrialization and growing consumer awareness regarding sustainability and low toxicity of these coloring agents are favoring market growth in countries such as Brazil, Argentina, South Africa, UAE and Saudi Arabia.
Competitive Insights
The global metallic pigment industry is characterized by multinational & domestic companies that are integrated along the value chain from metal granulate processing to pigment manufacturing.
Key industry participants include BASF, Sudarshan Chemicals, Eckhart Pigments, Schlenk Metallic Pigments, Sun Chemical Performance Pigments, Ferro Corporation and Carlfors Bruk among others such as Toyal America Inc., Asahi Kasei Corporation, Umicore and Siberline Manufacturing Co.