Industry Insights
The global polyester hot melt adhesives market size was 87.1 kilotons in 2014. The growth of packaging and textile & fabrics industries in emerging markets of India, China, and Vietnam is expected to drive growth over the next seven years. Rising demand for polyester hot melt adhesives over solvent-based and water-based alternatives can be attributed to stronger adhesion and quicker setting time.
Adhesion to a wide range of surface textures such as paper, board, and plastics is anticipated to boost further demand in packaging segment. Product innovations including lower temperature application and the combination of technologies such as automated and UV curing adhesives are anticipated to steer product demand over the forecast period.
Modifications and development of key raw materials are anticipated to offer new frontiers for R&D investments. Favorable regulatory standards regarding low VOC content in adhesives are expected to drive polyester hot melt adhesives market over the long term. Recent developments in the industry include joint ventures and capacity expansions to enhance the production capabilities and minimize raw material procurement costs.
Consistent technological advancements in adhesive formulations and dispensers are expected to offer new frontiers for market participants. Modifications in equipment configuration and adhesive formulation are anticipated to instigate new solutions for tackling the production and fast settling issues.
Surging demand for low maintenance and cost-effective adhesive technology in various end-use industries including packaging, labeling, bookbinding, non-woven, woodworking, building & construction, transportation, automotive, and footwear industries is expected fuel market growth over the next seven years.
U.S. polyester hot melt adhesives market volume by application, 2012-2022 (Tons)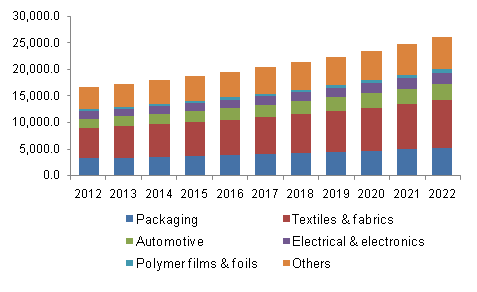 Despite the maturity of hot melt technology in various economies including North America and Europe, advancements in the formulation and dispensing equipment are expected to sustain growth trend over the forecast period.

Application Insights
Textiles & fabrics emerged as a leading polyester hot melt adhesives application segment accounting for over 30% of market revenue in 2014. Increasing need for breathability and waterproof protection, e.g. in the footwear industry, requires innovative technologies. The high requirement of technical textiles in niche segments including protective clothing and geotextiles is expected to steer growth over the next few years. Positive outlook towards textile industry growth particularly in emerging economies of Asia Pacific and MEA is anticipated to stimulate growth in the segment in the next seven years.
Product demand in the automotive segment is expected to witness a high growth rate, at an estimated CAGR of 6.0% from 2015 to 2022. Polyester hot melt adhesives are used for lamination processes that help to ensure attractive, soft feel surfaces of textile parts. Furthermore, the use of adhesives makes the process easy and secure to meet technical requirements such as resistance against climatic influence and low emission. Growing automobile industry, particularly in Asia Pacific, is anticipated to drive demand over the next seven years.
Polyester hot melt adhesives are expected to capture a significant portion of packaging marketplace. North America, Europe, and China are expected to offer new frontiers for adhesive packaging market owing to the expansion of production capacity and joint ventures in these regions. Packaging and labeling application comprises various segments including corrugated and paperboard carton, and glass & plastic bottle labeling.
Regional Insights
Asia Pacific was the largest consumer and accounted for over 35% of the total demand in 2014. Asia Pacific is anticipated to witness the fastest growth over the forecast period. Growing automotive and electronics industries in the region are anticipated to drive polyester hot melt adhesives demand in this region. The high rate of product utilization in electrical & electronics applications including potting and encapsulation of electronic components is anticipated to have a positive effect on industry growth.
China is a major consumer of polyester hot melt adhesives with a positive outlook on growing automotive and electrical & electronics industries in the region. Major automobile conglomerates including General Motors, Volkswagen, Hyundai, Chery, and BYD have established manufacturing facilities in the region. Favorable government initiatives to promote FDI flow and tax incentives, particularly in this sector, may be attributed to high industry penetration over the forecast period.
North America market is expected to reach a total revenue of over USD 146,700 thousand by 2022. Growing specialty packaging industry along with significant demand in automotive aftermarkets particularly in the U.S. and Mexico is anticipated to drive growth.
Changing trend in the packaging industry by replacing traditional packaging material such as glass, paper, metal, and aluminum with high strength, lightweight, clarity, long-term durable materials is anticipated to raise product demand over the next seven years. Favorable government policy by EPA in the U.S for using eco-friendly product is further expected to facilitate industry expansion over the forecast period.
Competitive Insights
Major companies including Sika AG, Bostik, and 3M, have been focusing on capacity expansions and forward integration to sustain the impact of petrochemicals price dynamics. These strategies not only offer enhanced product portfolio but also help to secure long-term contracts with distributors and OEMs.
Major companies operating in the market include EMS-Chemie Holding AG, Tian Yang Hot Melt Adhesive Co. Ltd, XinXin Hot-melt Adhesive, Wenzhou Huate Hot-Melts Co. Ltd, Sipol SpA, Toyobo, SK Chemicals, Nippon Gohsei, Evonik Industries, Nihon Matai Co. Ltd, and Eastman Chemical Company.