Industry : Personal Care & Cosmetics
Titanium dioxide (TiO2) is a poorly soluble white inorganic non-flammable metal oxide of titanium, sourced from ilmenite, rutile, and anatase. Zircon is the co-product of mining from ilmenite and rutile deposits and is the another resource utilized in the manufacturing TiO2. The global titanium dioxide market is growing significantly owing to its increasing use in end-use industries such as paints & coatings and cosmetics.
Various applications of TiO2 include paints & coatings, plastics, paper & pulp, cosmetics and others such as printing inks, rubber and chemical fibers. The product is incorporated in the paints & coatings industry and can optimize light scattering and white opacity. In polymers, the product reduces the fading and cracking, thus minimizing degradation of the system. TiO2 nanomaterials are transparent UV absorbers used as a protective material.
TiO2 is used as a dispersing agent, flocculent, and whitening agent in paints & coatings industry. In automotive coatings, the product is used as a dispersive agent with maximum gloss retention and high chalk resistance. Rising focus on the automobile industry in China, India, and Japan is expected to augment the market over the forecast period.
Global consumption of lightweight materials used in transportation equipment (million tons)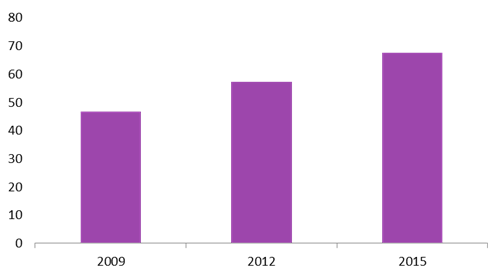 The automotive sector is growing rapidly in Asia Pacific with increasing demand of the consumers for the lightweight vehicles. Titanium dioxide is a significant material employed in the coating of polycarbonates, which is used as a substitute for metal and glass automotive parts in lightweight materials. Lightweight vehicles industry growth coupled with increasing demand for polycarbonate is expected to drive the market over the next few years.
The construction industry is another major end-use sector where titanium dioxide is used in paints. The product is used as a dispersive agent in interior and exterior architectural paints with maximum gloss retention and chalk resistance. These factors contributing to paints and coatings industry are expected to have a positive impact on the market over the forecast period.
TiO2 nanomaterials application scope has been rising over the past few years in the cosmetics industry as it absorbs UV light. This is projected to augment the market growth over the next nine years. However, stringent regulations in various regions on account of its carcinogenic properties may hamper product demand over the forecast period.
The product is also employed in the paper industry as it enhances the paper quality by imparting whiteness, shine & thinness, high strength, and smoothness. Also, TiO2 acts as a substitute for talcum powder and calcium carbonate in paper and pulp industry. The global market is consolidated with few major players accounting for around 50% of the total market. A few players in this market are integrated across various stages of the value chain.

In-depth report on global Titanium Dioxide (TiO2) Grand View Research:
https://www.grandviewresearch.com/industry-analysis/titanium-dioxide-industry