Cartilage is a flexible and semi-rigid avascular connective tissue that performs supporting function and prevents friction between the bones due to its shock absorbing nature. There are three types of cartilage such as elastic (yellow), hyaline, and fibrocartilage. Damage to the cartilage obstructs the normal movement of knee, hip, shoulder, finger, elbow, foot and ankle, and can cause pain. If left untreated, the joints may get damaged.
Various diagnostics such as magnetic resonance imaging (MRI) and arthroscopy are used to detect the cartilage damage. Additionally, even non-surgical or conservative treatments including special exercises (physical therapy), steroid injections, and NSAIDs (non-steroidal anti-inflammatory drugs) can be used for treatment of damage in patients who respond to these conservative treatments.
Introduction of advanced technologies such as microfracture (marrow stimulation), mosaicplasty, scaffold, debridement, autologous chondrocyte implantation (ACI) and matrix-induced autologous chondrocyte implantation (MACI) in cartilage regeneration increases efficacy and accuracy while performing repair surgeries.
In microfracture, the orthopedic surgeon drills tiny holes under the damaged cartilage and exposes blood vessels that are present inside the bone, in order to form a blood clot inside the cartilage. However, in mosaicplasty, a healthy cartilage is taken out and replaced with the damaged ones. Furthermore, in debridement, the damaged cartilage is smoothened by removing loose edges with the use of mechanical shaver in order to prevent it from rubbing and irritating other body organs.
In ACI, a small piece of cartilage is taken out, and is grown in the laboratory with the objective to produce more cartilage cells, these cells are then implanted into the knee after 1 to 3 months. MACI (autologous cultured chondrocytes on porcine collagen membrane) offers a 3D-culture microenvironment for chondrocyte adhesion, proliferation, and matrix secretion, in order to maintain the chondrocyte phenotype. The technique is used to repair symptomatic,full-thickness knee cartilage defects in adults.
In scaffold, the technique offers benefits for patients in early rehabilitation. The technique provides a 3D-culture microenvironment for cartilage cells, and solves the chondrocyte differentiation problem in monolayer cultures
Global cartilage repair market, by region, 2016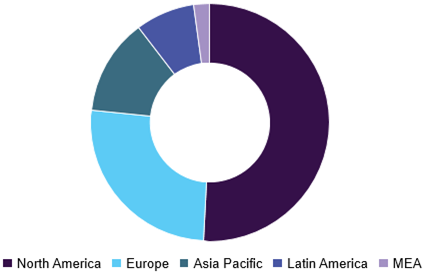 Cartilage repair: Market snapshot
Increasing worldwide prevalence of musculoskeletal diseases such as osteoarthritis, rheumatoid arthritis and other chronic diseases including obesity, diabetes and others are anticipated to nurture the cartilage repair market growth over the forecast period.
Rising number of road accidents due to influence of alcohol with reckless driving, use of mobile phone and others factors such as weather conditions and improper road construction are causing bone and joint injuries across the world. This results in triggering cartilage loss, which is anticipated to propel the demand for cartilage repair products during the forecast period. As per data published by the World Health Organization (WHO) in November 2016, approximately 1.25 million people die each year in road accidents worldwide.
Nearly 30.0 million children and adolescents participate in youth sports in the U.S each year. According to the American Orthopaedic Society for Sports Medicine data, over 3.5 million athletes receive medical treatment due to sports injuries each year. This rise in sports is causing injuries among athletes, resulting in fueling the demand for cartilage repair products.

In-depth report on global cartilage repair/regeneration market by Grand View Research:
https://www.grandviewresearch.com/industry-analysis/cartilage-repair-regeneration-market