Injuries are a part and parcel of one's life. Especially in case of contact sports, where sportspersons are in constant danger of injuring their hands, shoulders, elbow, ankle or knees. If left untended, these injuries can cause much pain in the long run. One of the common injuries seen in such sports is damage to the cartilage, which can lead to a long spell on the sidelines for the player, in sporting terms. However, this is not an issue that is exclusive to athletes, as obesity and arthritis also play a major role in its growth around the globe. How is this issue effectively tackled? Through the process of cartilage repair and regeneration, which treats joints that have damaged cartilage but are otherwise healthy.
In order to understand the growth of the cartilage repair market, it is necessary to understand about the cartilage first. Cartilage is a flexible and semi-rigid avascular connective tissue that performs supporting function and prevents friction between the bones due to its shock absorbing nature. There are three types of cartilage: elastic (yellow), hyaline, and fibrocartilage. What happens if the cartilage is damaged? It obstructs the normal movement of knee, hip, shoulder, finger, elbow, foot and ankle, causing pain, and if left untreated, the joints may get damaged. The affected area usually swells up, and it might take weeks, or even months, to come down.
Cartilage repair involves the restoration of the cartilage surface of a joint that has been affected by an osteochondral/chondral defect. Various diagnostics such as magnetic resonance imaging (MRI) and arthroscopy are used to detect the cartilage damage. Additionally, even non-surgical or conservative treatments including special exercises (physical therapy), steroid injections, and NSAIDs (non-steroidal anti-inflammatory drugs) can be used for treatment of damage in patients who respond to these conservative treatments.
Technologies Advancing The Market
Some of the advanced technologies used for cartilage regeneration include microfracture (marrow stimulation), mosaicplasty, scaffold, debridement, autologous chondrocyte implantation (ACI) and matrix-induced autologous chondrocyte implantation (MACI), which increase efficacy and accuracy while performing repair surgeries.
Microfracture - The orthopedic surgeon drills tiny holes under the damaged cartilage and exposes blood vessels that are present inside the bone, in order to form a blood clot inside the cartilage.

Mosaicplasty - In this cartilage repair technique, healthy cartilage is taken out and replaced with the damaged ones.

Debridement - The damaged cartilage is smoothened by removing loose edges with the use of mechanical shaver in order to prevent it from rubbing and irritating other body organs.

ACI - A small piece of cartilage is taken out, and is grown in the laboratory with the objective to produce more cartilage cells, these cells are then implanted into the knee after 1 to 3 months.

MACI (autologous cultured chondrocytes on porcine collagen membrane) - This cartilage regeneration technique offers a 3D-culture microenvironment for chondrocyte adhesion, proliferation, and matrix secretion, in order to maintain the chondrocyte phenotype. The technique is used to repair symptomatic, full-thickness knee cartilage defects in adults.

Scaffold - This technique offers benefits for patients in early rehabilitation. The technique provides a 3D-culture microenvironment for cartilage cells, and solves the chondrocyte differentiation problem in monolayer cultures.
Global cartilage repair market, by region, 2016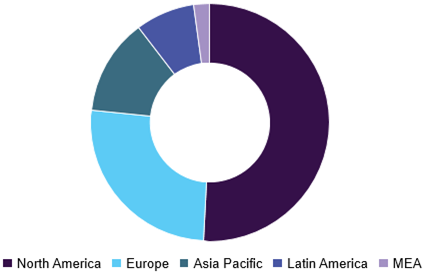 A Global Snapshot
Increasing worldwide prevalence of musculoskeletal diseases such as osteoarthritis, rheumatoid arthritis and other chronic diseases including obesity, diabetes and others are anticipated to nurture the cartilage repair market growth over the forecast period.
According to the CDC, arthritis affects a sizeable portion of the American population. The CDC expects that by 2040, 26% of the US adults aged 18 or older, which amounts to 78 million people, will be diagnosed with arthritis by their doctors. With osteoarthritis being a key factor in causing cartilage damage, the cartilage repair market is expected to show good growth in this period.

The rise in geriatric population around the globe also has an impact on the number of cartilage damage situations. As a person ages, joint movement becomes stiff, and the cartilage grows thinner, increasing the risk of damage. The UN stated that the population above the age of 60 years stood at 962 million in 2017, and the number is expected to reach almost 2.1 billion by 2050.

Road accidents are another cause for the growth of the cartilage regeneration market. According to the WHO, between 20-50 million people suffer non-fatal injuries in these accidents, which is driving the industry growth. Moreover, according to the Association for Safe International Road Travel, the U.S. sees 4.4 million serious accidents each year that requires medical attention.

Participation in sports also heightens the risk of cartilage damage, as most of these are contact sports or require high physical exertion. According to the American Orthopedic Society for Sports Medicine, the US has seen continued increase in sports participation by kids under the age of 14, with the number standing at 60 million. Additionally, more than 3.5 million athletes receive medical treatments each year due to sports injuries in the US. This rise in sports is causing injuries among athletes, resulting in fueling the demand for cartilage repair products.
In The News
Major competitors in the cartilage repair and regeneration space are: Zimmer Biomet; Stryker Corporation; DePuy Synthes; Smith & Nephew plc; Vericel Corporation; Osiris Therapeutics Inc.; B. Braun Melsungen AG; Anika Therapeutics, Inc.; Arthrex, Inc.; and Collagen Solutions Plc. Competitors are focusing on increased R&D spending, and mergers & acquisitions in order to steal a march over their rivals.
Some recent developments in the cartilage repair industry include:
In September 2019, Zimmer Biomet received clearance from the US FDA regarding the use of its 'JuggerStitch' device in meniscal repair procedures. The device offers a knotless, less invasive, all-suture alternative for better patient treatment results. The meniscal repair range of Zimmer Biomet is part of its sports medicine portfolio.

A research in 2019 showed that the ProChondrix® CR, which is processed by AlloSource and distributed by Stryker, was successful in maintaining consistent, high cell viability for 2 years, when stored at -80ÌŠ C. The cryopreservation technology that is provided by the osteochondral allograft would prove to be of great help in healing more patients.

In June 2019, Anika Therapeutics announced their plans to showcase HYALOFAST, a biodegradable, HA-based scaffold for cartilage repair, along with its regenerative medicine and orthobiologics portfolio, at the 2019 International Cartilage Regeneration and Joint Preservation Society (ICRS) Focus Meeting.

In-depth report on global cartilage repair market by Grand View Research:
https://www.grandviewresearch.com/industry-analysis/cartilage-repair-regeneration-market