Market Size and Trends
The global flame retardant market size was valued at USD 6.29 billion in 2015. The growth of key end-use industries such as construction, electrical & electronics, and transportation is expected to drive the growth over the forecast period. These industries are increasingly using FR based materials to fulfill regulations concerning fire safety and prevention.
Governments across the globe have been focusing their attention on fire prevention which has resulted in the formation of stringent regulations and guidelines. These regulations encourage the use of flame retardant materials thus driving the overall growth. Proactive attempts from key end-use industries to avoid mishaps caused due to fire are also expected to aid industry growth.
Global flame retardant market revenue, by application, 2014 - 2025 (USD Million)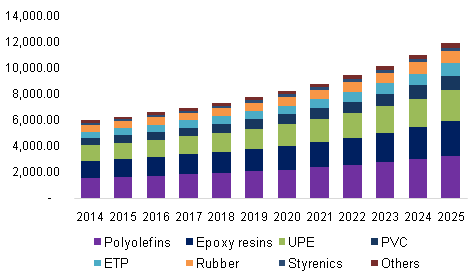 They cover a broad range of chemicals which prevent the spread of fire and increase the escape time by delaying it. They are either mixed with a material or can be chemically bonded to it. They are used in plastics, surface finishes, coatings, and textiles.
Product Insights
Non halogenated type dominated the segment in 2015 with demand exceeding 1,400 kilo tons. It is expected to continue its dominance over the forecast period owing to regulations aimed at phasing out halogenated flame retardant usage.
Brominated type dominated the halogenated products demand and occupied more than 40% of it. In non halogenated type, Aluminum hydroxide demand was over 900 kilo tons in 2015, the largest in the segment. It is expected to grow at an estimated CAGR of 5.7% over the forecast period.
Global non halogenated flame retardant market revenue, by product, 2014 - 2025 (USD Million)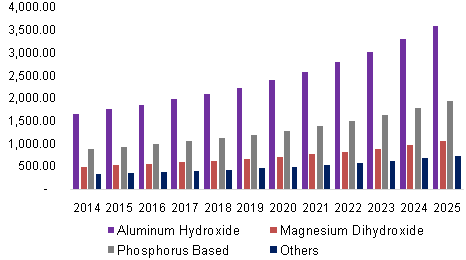 Application Insights
Polyolefin was the largest application segment in 2015 and accounted for more than 20% of the flame retardant market. Polyolefins are widely used in industries such as electrical & electronics and construction. They have been found to possess high flame retardant loading capacity. All these attributes are contributing for the application segment, and it is expected to witness the highest CAGR of 5.5% from 2016 to 2025.
Epoxy resins demand was around 600 kilo tons in 2015 and is expected to grow at an estimated CAGR of 5.0% over the forecast period. Epoxy resins find widespread usage as an adhesive, coatings and as composite materials in construction as well as electrical and electronics industries.
End-Use Insights
Regarding demand, electrical and electronics dominated the end use segment with a demand of over 1,000 kilo tons in 2015. Electrical and electronics products are subject to high degree of fire risk owing to the involvement of electric currents in their functioning.
Flame retardants are used to reduce this risk in a broad range of products such as laptops, smartphones, TV sets, refrigerators, vacuum cleaners and printed wiring boards. Rising disposable income is catering to the growth of electrical & electronics segment growth, and this trend is expected to benefit the industry over the forecast period.
Construction end use worth is projected to grow at an anticipated CAGR of 6.8% from 2016 to 2025. The construction industry has undergone transformation and flame retardant infused materials such as plastic & structural insulation, and structural elements are increasingly being used along with conventional ones.
Rising urbanization, government initiatives to provide affordable housing have benefitted the industry in the recent past, and this trend is expected to continue over the forecast period. This growth in the construction sector is projected to cater to a demand rise for flame retardant.
Regional Insights
Asia Pacific emerged as the largest consumer and accounted for over 45% of total volume in 2015. High demand from countries such as Japan, China & India is benefitting the overall regional market. The presence of electrical & electronics manufacturing hubs, positive growth in the construction sector and significant presence of automotive industry in the region are expected to benefit the growth in the region.
U.S. flame retardant market revenue, by product, 2014 - 2025 (USD Million)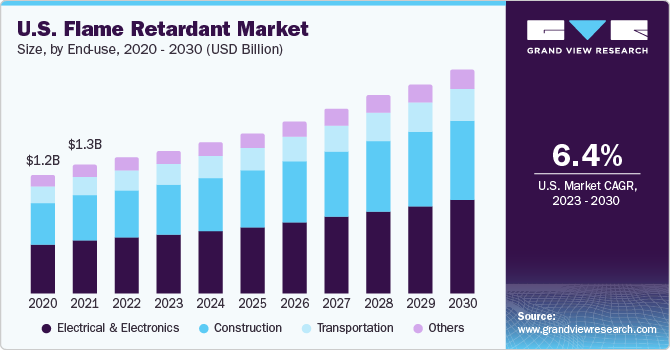 Europe regional market demand was over 600 kilo tons in 2015. Strong regulations about fire safety, massive industrialization, and widespread awareness have benefitted the regional market. Central & South America demand is expected to grow at an anticipated CAGR of 5.3% over the next nine years.
Flame Retardant Market Share Insights
Key industry participants include Albemarle, BASF ICL, Chemtura, Clariant International Ltd., Italmatch Chemicals, Huber Engineered Materials, BASF, Thor Group Ltd., & DSM. Companies such as Albemarle and ICL entered into an agreement for supplying of a sustainable polymeric solution.
Major industry participants are acquiring local companies to increase their footprint in the respective region. Companies are focusing more on product innovation to gain market share. There is a gradual shift from halogenated to non halogenated form manufacturing due to the regulatory scenario.
Flame Retardant Report Scope
| | | | |
| --- | --- | --- | --- |
| Attribute | Details | Customization Offer (15% free)* | Additional Cost |
| Base year | 2015 | NA | NA |
| Historic | 2014 - 2015 | Extended historic data (2012 to 2015) | Free |
| Forecast | 2016 - 2025 | Extended Forecast data (2025 - 2028) | Free |
| Report details | Market size, company market share, competitive Landscape, growth factors, trends | Contact us for specific market information not available in this report | Quotation to be shared post feasibility |
| Market representation | Kilo Tons, USD Million | NA | NA |
| Geographic coverage | Global & Regional (by country) | Information on up to three additional countries | Free |
| Company profiles | All major market players | Profiles of 10 additional companies | Free |
* 15% free customization - The 15% report customization is equivalent to work done by one research analyst for 5 working days.
Market Segments Covered in the Report
This report forecasts revenue growth and provides an analysis on the market trends in each of the sub-markets from 2014 to 2025. For the purpose of this study, Grand View Research has segmented the global flame retardant market by product, application, end use and region.
Product Outlook (Volume, Kilo Tons; Revenue, USD Million, 2014 - 2025)

Halogenated Flame Retardant

Brominated FR

Chlorinated Phosphates

Antimony Trioxide

Others

Non Halogenated Flame Retardant

Aluminum Hydroxide

Magnesium Dihydroxide

Phosphorous Bases

Others

Application Outlook (Volume, Kilo Tons; Revenue, USD Million, 2014 - 2025)
End-Use Outlook (Volume, Kilo Tons; Revenue, USD Million, 2014 - 2025)

Construction

Transportation

Electrical & Electronics

Others

Regional Outlook (Volume, Kilo Tons; Revenue, USD Million, 2014 - 2025)

North America

Europe

Asia Pacific

Central & South America

Middle East and Africa