Industry Insights
The global flexible electronics market is expected to reach USD 87.21 billion by 2024. Factors contributing to growth include ruggedness, portability, light-weight, and low-cost of production as compared to rigid substrates. These devices hold tremendous potential in influencing adoption in the entertainment and gaming industry owing to their ability to curve, roll, flex, conform and fold, enabling a new intuitive user interface.
Asia Pacific flexible electronics market by application, 2013 - 2024 (USD Million)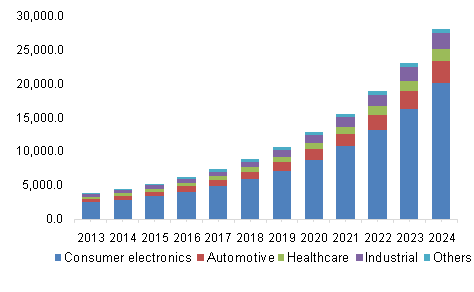 The industry is anticipated to witness the amalgamation of wearable technology with flexible electronics, which may also serve as a critical technological advancement in this industry. Additionally, organic electronics may offer opportunities sensors in non-display applications including gesture recognition, contactless control, and biometric sensor arrays. Mounting competition with commercialized technologies such as LCD, LED, etc. is expected to impede the market growth.
The market is highly regulated by several governing bodies and institutions. For example, companies are required to patent their designing and fabrication according to the Design Rights Regulations 1989, which are protected by the Regulations under Copyright, Design, and Patent Act. Further, growing health awareness coupled with rising demand for technologically advanced wearable devices is anticipated to fuel the usage in health monitoring devices.
Component Insights
The component segment comprises displays, batteries, sensors, and memory. In 2015, the display segment generated the highest revenue and captured over 50% of the market in the same year. High application penetration in smartphones, laptops, notebooks, desktops, and e-reader is anticipated to spur demand over the next eight years. Features including power efficiency and fast microsecond on/off pixel switching rates are expected to impact the segment growth favorably.
The battery segment is estimated to witness moderate growth at CAGR exceeding 15% over the forecast period. The proliferation of Internet of Things (IoT) and implementation of the same in wearables and environmental sensors demand compact and energy-efficient products; however, these applications require battery designs, which the traditional battery technologies lack, particularly concerning the size and power consumption. Emerging necessities such as efficiency, lifetime, compactness, cost, charging cycles, reliability, and flexibility is anticipated to fuel demand over the next eight years.
Application Insights
Key application fields include consumer electronics, automotive, healthcare, and industrial. Consumer electronics are further classified into smartphones, wearable devices, and televisions. The segment accounted for over 55% of the overall share in 2015; a trend anticipated to continue over the next few years. It is principally ascribed to the widespread implementation of this technology in smartwatches, tablets, e-papers, e-books, etc.
The healthcare segment is estimated to witness steady growth at CAGR of over 8% from 2016 to 2024. Increasing usage in x-ray detectors, light therapies, lab-on-chip devices, smart plastics, healthcare photonics, and health monitoring devices is anticipated to fuel the segment growth.
The automotive sector accounted for over 12% of the overall revenue in 2015 and is expected to witness steady growth over the next eight years. The technology is projected to revolutionize car designs, ranging from the dashboard to the center console.
Regional Insights
North America accounted for over 30% of the global revenue in 2015. The region is characterized by the presence of numerous research universities, which are involved in research projects with subjects relevant to the technology. Additionally, the presence of a few key players with competencies, process technologies, equipment, and intellectual property pertinent to flexible electronics is estimated to fuel the regional growth over the forecast period.
Asia Pacific is expected to witness bullish growth at CAGR exceeding 17% from 2016 to 2024. It may be attributed to the presence of several large industrial groups with extensive manufacturing capabilities in segments reliably relevant to the production of flexible electronic devices.
Europe flexible electronics market was over USD five billion in 2015. Efforts portrayed by an enormously wide range of research projects subsidized at the EU level, reinforced by extensive national and regional initiatives in countries including Belgium, the UK, the Netherlands, Germany, and Finland for the development of this technology are expected to play a significant role in driving the demand.
Competitive Market Share Insights
Prominent industry participants encompass innovative techniques that empower new applications such as wireless sensors for zero power and intelligent building energy management, agrarian field observing/reporting devices, and delivery status data loggers in an attempt to gain competitive advantage. Notable companies in the market include Thinfilm Electronics ASA, Solar Frontier K.K., Samsung, Pragmatic Printing Ltd., PARC, LG, GE Measurement & Control Solutions, 3M, and Cymbet Corporation, Inc.