Industry Insights
The global injection molded plastic market size was valued at USD 199.86 billion 2014. The industry is anticipated to witness significant growth in near future on account of increasing plastics component demand across various end-use industries including packaging, automotive, electrical & electronics, home appliances, and medical devices.
Injection molding process involves manufacturing of molded products by injecting molten plastic materials using heat into a mold and then solidifying them. Recent innovations to minimize the rate of faulty production have enhanced the significance of injection molded technology in the mass production of complicated plastic shapes.
Increasing construction spending, particularly in emerging markets of Brazil, China, India, Mexico, Russia, and South Africa is expected to drive demand. This is further supported by versatile properties of finished products including better heat and pressure resistance, making them more applicable to various industries.
Low crude oil prices coupled with China's economic situation have had a significant impact on petrochemicals industry. China plays an important role in the bulk production and trading of petrochemical derivatives. Various companies have adopted strategies to sustain annual growth and minimize the impact of lowered oil prices on profit margins.
Volatile prices of major raw materials including benzene, ethylene, propylene and styrene coupled with growing environmental concerns regarding their disposal is expected to hinder market growth over the forecast period. To overcome such challenges, the industry has shifted its focus towards developing injection molded plastics using bio-based counterparts. Major plastic manufacturers have been forming joint ventures and have been collaborating with biotechnology companies to synergize their functions to manufacture bio-based plastics and finished products.
U.S. injection molded plastic market revenue by raw material, 2012-2022 (USD Million)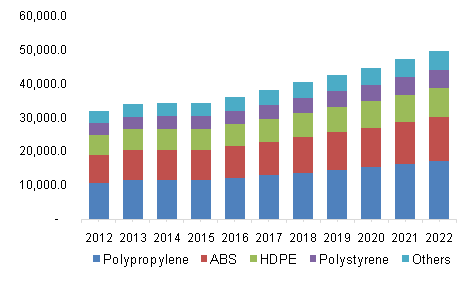 Raw Material Insights
Polypropylene emerged as the largest raw material segment and accounted for over 35% of total demand in 2014. High demand for injection molded polypropylene in household goods, automotive components, and packaging applications is a major factor driving its consumption. Increasing polypropylene finished products penetration in food packaging, protective caps in electrical contacts and battery housings is expected to further drive its demand over the forecast period.
Polypropylene components are being widely used in food packaging and electrical contacts on account of corrosion resistance and electrical insulation properties respectively. On account of aforementioned, the segment is expected to witness the highest growth over the forecast period.
ABS emerged as the second major raw material for injection molded plastics and accounted for over 25% of the total revenue in 2014. High ABS component demand in medical devices, automotive components, electronic housings and consumer appliances manufacturing is expected to drive its growth over the forecast period.
Application Insights
Packaging was the leading injection molded plastics application segment with a net demand of over 30,000 kilo tons in 2014. The finished products used in packaging undergo various development phases to cope up with regulatory guidelines and end-user requirements. Increased shelf life of foodstuffs, better performance towards wear & tear, durability are a few requirements that plastics need to meet for packaging applications.
Injection molded plastics hold immense potential particularly in the medical and automotive industry. The industry is expected to witness the highest growth in the medical devices & components sector. Biocompatibility, optical clarity, and cost efficient method of production is projected to drive demand in the medical industry. The segment is anticipated to grow at a CAGR exceeding in terms of value to reach a net worth of USD 24.59 billion by 2022.
Stringent regulatory scenario regarding medical grade polymer use in healthcare sectors is anticipated to positively impact growth in the industry over the forecast period. Growing preference towards bio-degradable polymers among medical device manufacturers is also expected to create lucrative opportunities in medical industry over the forecast period.
A strong shift in trend towards replacing steel with plastics in automotive industry is expected to spur market growth over the forecast period. Government regulations in the recent past have forced automotive manufacturers to use plastics instead of other materials such as iron and steel.
Automobile manufacturers have been focusing on reducing the overall weight of the vehicle to improve fuel efficiency. Increasing use of plastics to replace metals & alloys in automotive components is expected to drive product demand in automobile end-use segment, thereby providing immense opportunity to injection molded plastics to penetrate the industry
 
Regional Insights
Asia Pacific injection molded plastic market dominated the global demand and accounted for over 35% of total volume in 2014. Increasing infrastructure spending coupled with growing automobile demand in countries such as China, India, Indonesia, and Malaysia are expected to drive market penetration in the region.
Major end-use industries such as electronics and automobile are shifting their manufacturing base Asia Pacific countries such as China, India, Thailand and Indonesia owing to low labor costs. Government incentives in the firm of tax benefits are offered to manufacturers in these regions. This factor increases the requirement for manufacturing various automotive and electrical parts which in turn is expected to increase injection molded plastics demand over the forecast period.
Europe was another major injection molded plastic market with a total demand estimated to reach USD 75.10 billion by 2022. Europe's Non-food & beverages packaging applications include cosmetics & toiletries, pharmaceutical and household chemicals. Increasing electronic appliances demand such as laptops and cellular phones particularly in UK, Germany and France is expected to drive their demand for consumables & electronics application.
Europe's automobile industry growth is projected to drive this region's demand over the forecast period. A majority of future demand is expected to come from economies including China, India, Brazil, Germany, Thailand, and the U.S.
Competitive Insights
The global injection molded plastic market is highly fragmented with the presence of large unorganized sector particularly in the Asia Pacific and Latin America. Companies, particularly hailing from Asia Pacific have constantly been looking for significant capacity additions over past few years to take advantage of operational excellence and achieve economies of scale. Diverse product portfolio and differentiation make the market competitive regarding price and distribution channels.
Major companies operating in the global injection molded plastics industry including BASF, Dow Chemical Company, DuPont and HTI Plastics have integrated their operations across the value chain to enhance their market presence. Other players having a significant stake in the industry include SABIC, LyondellBasell, Eastman Chemical Company, Huntsman, Ineos Group and Magna International Inc.