Industry Insights
The magnetic sensors market size was valued at close to USD 1,800 million in 2014. Increasing automobile safety awareness and an overall decline in the pricing of these sensors have led their increased adoption across the global market.
With features such as GPS and navigation emerging as essential elements in smartphones, the need for direction and position sensing sensors has spurred market growth. Increasing global adoption of smartphones and tablet devices backed by rising disposable incomes across different demographics of the society has led to an increase in demand for such sensing elements.
North America magnetic sensors market by technology, 2012-2022, (USD Million)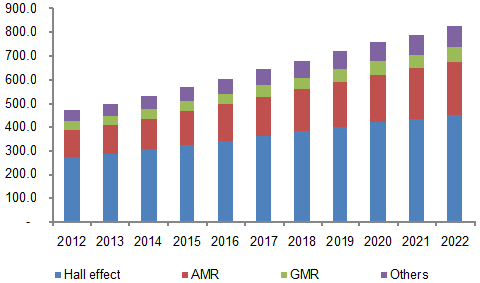 The demand from the automotive industry for magnetic modules/sub-systems is increasing due to growing concern among manufacturers to integrate more features that guarantee safety. The sensor components, as well as modules/sub-systems, find important applications in computer peripherals and consumer electronic products such as cameras, hard disk drives, DVD players, printers, cell phones, and washing machines.
Technological advancements and increasing applications across various industry segments are expected to drive market growth over the forecast period. Favorable government regulations mandating the installation of such sensing elements in automobiles and its safety equipment is presumed to provide significant opportunities for industry growth. However, intense competition among industry participants and declining average selling price of such sensing elements are envisioned to challenge market growth over the next seven years.
Technology Insights
Technologies analyzed in the report include Hall Effect, AMR, GMR, and other technologies. Hall Effect magnetic sensors dominated the market share in 2014 and are expected to retain dominance over the forecast period. Low power consumption is a prominent advantage of this technology that has led to the high adoption of these sensing elements.
The demand for AMR sensor is expected to witness considerable growth in the recent future owing to its operational capabilities such as high flexibility, greater magneto resistance, and cost-effectiveness. The demand for such sensing elements is expected to grow at a CAGR of over 12% from 2015 to 2022.
The need for GMR sensors is expected to be high in the developing countries owing to its use in a wide spectrum of applications, especially in reading data over magnetic tapes and devices such as hard disk drives.
Application Insights
The industry can be classified on the basis of application into consumer electronics, automotive, industrial, and others including aerospace & defense, and medical. Automotive applications segment is expected to remain the leading application segment over the next seven years. It accounted for close to 50% of the overall market share in 2014.
Industrial applications segment is presumed to witness significant growth over the forecast period, growing at a CAGR of over 13% from 2015 to 2022. This growth can be attributed to magnetic sensors' dynamic usage in the automotive segment for force & torque sensing, current sensing, speed detection, engine control, steering angle sensing, positioning, and Anti-Lock Braking Systems (ABS)
The demand for such sensing elements in consumer electronics segment was estimated at over 2,000 million units in 2014, which is expected to grow considerably over the next seven years. Consumer electronics segment deploys these sensing elements in various device fabrications such as laptops, tablets, and smart phones.
Regional Insights
North America regional market was valued at over USD 500 million in 2014 and is expected to grow over the forecast period. Increased purchasing power and growing adoption of smart devices have led to market growth in the region.
Asia Pacific magnetic sensors market is estimated to witness significant growth over the forecast period and is estimated to grow at a CAGR of over 10% from 2015 to 2022. The presence of sensor vendors in the countries such as China and Japan has positively impacted the regional industry growth.
After the European economic slump and debt crisis, investment in new outlets coupled with the expansion of the retail sector has offered essential momentum leading to the revival of industry growth. The designing work for Hall ICs is carried out in Europe. The region imports sensor components from countries such as India, China, and Japan, and assembles the final product using those components.
Competitive Market Share Insights
Key companies include Robert Bosch GmbH, Honeywell International, NXP Semiconductors, and Infineon Technologies. These players focus on developing products that can be used in multiple applications and contribute to resource conservation, environmental protection, and energy efficiency. Other companies include Rotary Linear Motion Sensors (RLS), Micronas Semiconductor Holding, NVE Corporation, Elmos Semiconductor, and Allegro Microsystems.