Industry Insights
The global mobile virtual network operator market size was estimated at USD 42.6 billion in 2014. The global voice services market is expected to witness sluggish growth owing to increasing penetration of VOIP services. However, data and value added services are projected to generate revenue for MVNO market over the next six years. MVNO's play a significant role in addressing the segment.
Mobile virtual network operator market revenue share, by region, 2012 - 2020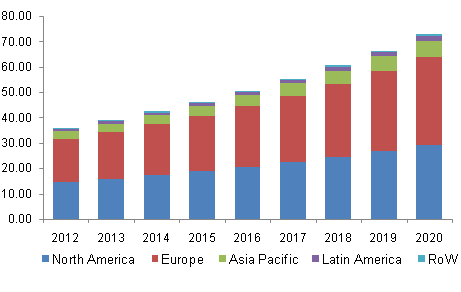 Increasing mobile subscriber base is expected to fuel growth over the forecast period. MVNO caters to customer need without possessing full infrastructure or license for using radio frequencies. High competition among service providers and the need for cheaper mobile services is expected to favor growth. Upcoming services such as mobile money and machine to machine transaction is projected to fuel growth. Also, an increase in data usage rates and prices of a smartphone is expected to bolster demand.
High investments made by MNOs' to upgrade and maintain existing infrastructure coupled with high operational costs and declining average revenue per user for MNO is anticipated to impact the demand positively. However, lack of operational expertise is expected to hinder market demand. To avoid direct competition with MNO's, MVNO's offer differentiated services. MVNO's target niche markets such as retail, businesses, roaming services, migrants, and youth. MVNO's aid in increasing revenue for MNO's by providing wholesale deals, increasing network utilization and creating their MVNO's by launching sub-brands.
Technological advancements such as M2M and cloud are anticipated to fuel market demand over the forecast period. MVNO's are expected to provide convenient and cheaper mobility options aimed at industries such as lifestyle, productivity and entertainment to increase revenue generation. Some of the business models for MVNO's include full, intermediate, branded reseller and thin.
MNOs offer various service plans and products for different markets having fewer users, which leads to expensive and inefficient operational and business support systems. MVNOs may help in optimizing resource allocation and improving the quality of service (QoS), which contributes to the global mobile market.
Regional Insights
Asia Pacific and ROW are projected to experience significant growth over the forecast period. Asia Pacific is poised to grow at a CAGR of over 10% during the forecast period. Telecom services industry is emerging and is expected to grow phenomenally in the region. With the economies of countries such as Vietnam, Myanmar, and China opening up the telecom service industry the market is expected to experience substantial demand going forward till 2020.
Latin America and Middle Eastern countries are expected to witness significant growth. This increase can be attributed to favorable regulatory policies and active MNO support. Australia, Japan, and Malaysia are expected to play a vital role in the growth of the region. Also, countries such as Thailand, Singapore, and the Philippines are also expected to grow significantly over the next six years.
In Japan, MVNO's provide services such as sports, remote management of vending machines, M2M, surveillance and measuring devices. MVNO's also provide voice-controlled services in patient monitoring and security applications, remote devices in medical and might provide new opportunities for regional growth.
Europe and North America are projected to grow significantly over the forecast period. The growth can be attributed to a favorable regulatory framework which is expected to play a crucial role in developing MVNO market. However, aggressive pricing strategies followed by MVNO have cannibalized growth opportunities significantly in the region specifically in Spain and Austria. Countries such as the UK, Germany and Netherlands are projected to impact regional growth in a positive manner over the forecast period. Data services are expected to be the key services for regional growth over the forecast period.
Competitive Insights
Some of the key market players are Lebara Mobile, Lyca Mobile, TalkMob, Giffgaff, Poste Mobile, Virgin Mobile, and Tracfone. Virgin Mobile is present in various countries such as U.K., Australia and U.S., Canada, Poland, Mexico, France, and Saudi Arab. It offers a broad range of services such as digital cable recorders, TV-on-demand, broadband, cable, television and mobile and converged solutions. In August 2012, Virgin TV was launched by Virgin, which enabled users to stream up to 90 live TV channels using mobile devices.
Virgin Mobile and Tracfone U.S.A. are the two major MVNO's in the U.S. Apple has recently launched MVNO service in the U.S. Apple has tied up with many MNO's. MVNO's provide all the services that an MNO provides such as calls, data and text. The consumer is supposed to pay the MVNO instead of the carrier.