You might have seen the modern homeowner looking to get away from the hustle and bustle of the city, but in today's age of rapid development, there is no getting away from the city life. Through one reason or another, people are forced to live within the city limits. So, what can one do if they cannot control the noise and the bustle outside? Well, they can make use of acoustic insulation, for starters. Acoustic insulation combats noise, external or internal, and improves the serenity of your personal space. And what helps in this concept is active calcium silicate.
A Necessity In Today's Day & Age
Active calcium silicate is a poly-silicate compound that is produced by making use of various raw materials such as limestone, sodium silicate and hydrochloric acid. It is used in various application segments, on account of its desirable technical properties such as sound absorption and high-temperature resistance. It is widely available in the form of blocks, powder, and boards. Active calcium silicate is a safer alternative to asbestos in high temperature insulation applications. The key application segments include ceramics, fire protection, cement, paints & coatings, and insulation.
The compound has a wide application scope owing to its dynamic nature, and it is extensively utilized in the manufacturing of acoustic tiles and wallboards to provide sound proofing and protect from fire. Active calcium silicate market is primarily driven by robust growth in the construction industry. The construction segment is one that has found rapid growth in the developing and underdeveloped economies, while also growing steadily in the developed ones. Construction spending in the United States crossed USD 1.29 trillion in 2018, while the global construction costs as a whole, are expected to rise on an average by 4.3% in coming years.
Construction Sector - A Major Customer
Increasing government spending on industrial, commercial, and residential construction development has positively impacted the global market growth of active calcium silicate. It is widely utilized in various application segments owing to its characteristics such as excellent adhesion, intumescence, and fire resistance. The construction industry needs to follow the regulatory standards that are implemented by regulatory bodies like OSHA and NIOSH, which ask for builders to implement additional security features in buildings.
Residential building fires are still a major cause of death in the United States. According to 2018 FEMA data, an estimated 379,600 residential fires took place in the country that year, which resulted in close to 2,800 deaths. Moreover, such incidences also cause great financial losses, and this figure stood at 8.19 billion in 2018. As such, fire protection becomes a major task on hand for the authorities, and the desirable properties of active calcium silicate in combating such hazards has provided impetus to the market.
Market Scenario
Insulation segment dominated the global active calcium silicate market owing to increasing demand from high-temperature applications such as glass, petrochemical, and steel. In addition, it is widely used in oil refinery, building walls, blast furnace, and electric arc furnace in boards and blocks form. Use of active calcium silicate is also important in the ceramics sector, which is growing at a rapid pace on account of the emergence of 3D printing technology, as well as its application in dental implants.
Europe dominated the global market in terms of volume and revenue in 2016 and is expected to continue its domination over the years ahead. Europe is followed by Asia Pacific, which is expected to witness robust growth in the coming years, especially in the construction sector, with economies such as India and China leading the way in regional infrastructural development. The demand for active calcium silicate from various application segments is propelled by a positive outlook from construction industry owing to its importance in acoustic insulation, and presence of regulatory standards imposed by various regulatory bodies.
U.S. active calcium silicate market revenue, by application, 2016 (%)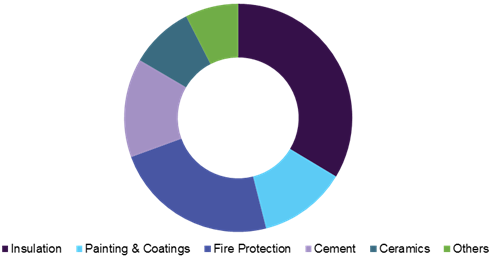 Industrial Developments
Several industry players have enhanced their market presence across the value chain by performing market expansion strategies such as partnerships, acquisitions, and capacity expansion. In addition, industry players are focusing on manufacturing active calcium silicate products within the regulatory framework to accommodate needs from various application segments. Promat International NV, Skamol A/S, American Elements Corporation, HIL Limited, Weifang Hong Yuan Chemical Co., Ltd., Johns Manville Corporation, Bee Chems, MLA Group of Companies, Ramco Industries Ltd., and 2K Technologies are some of the key players operating in the active calcium silicate industry.
Some of the recent developments in the active calcium silicate market include:
In January 2020, HIL Limited approved the sale of their calcium silicate insulation products division, with the brand 'HYSIL' to be transferred into the hands of Calderys India Refractories Limited. Calderys is a wholly-owned subsidiary of the France based multinational company Imerys S.A.

In November 2019, Johns Manville announced that it had signed an agreement that concerns the acquisition of ITW Insulation Systems, which is known for its premium, low-temperature polyisocyanurate foam insulations and metal jacketing solutions. The company has four manufacturing plants (2 each in U.S. and Canada). Through this acquisition, Johns Manville would be focusing on the cold and cryogenics market.

In September 2018, scientists at Rice University successfully developed micron-sized calcium silicate spheres which could possibly lead to stronger, greener concrete. This work built upon the previous project by the same team that developed self-healing materials with porous, microscopic calcium silicate spheres.

In-depth report on global active calcium silicate market by Grand View Research:
https://www.grandviewresearch.com/industry-analysis/active-calcium-silicate-market