Active calcium silicate is special chemical coated calcium silicate used in various application segments. It is extensively used owing to its technical properties such as sound absorption and high-temperature resistance. It is widely available in the form of blocks, powder, and boards. The key application segments include ceramics, fire protection, cement, paints & coatings, and insulation.
Active calcium silicate market is primarily driven by robust growth in the construction industry. Increasing government spending on industrial, commercial, and residential construction development has positively impacted the global market growth. It is widely utilized in the various application segments owing to its characteristics such as excellent adhesion, intumescence, and fire resistance.
Active calcium silicate has wide application scope owing to its dynamic nature, and it is extensively utilized in the manufacturing of acoustic tiles and wallboards to provide sound proofing and protect from fire. Stringent regulations pertaining to its permissible exposure to various application segments is expected to restrain the market growth.
U.S. active calcium silicate market revenue, by application, 2016 (%)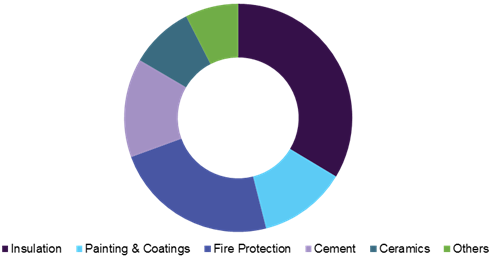 Insulation application segment dominated the global market owing to increasing demand from high-temperature insulation applications such as glass, petrochemical, and steel. In addition, it is widely used in oil refinery, building walls, blast furnace, and electric arc furnace in boards and blocks form.
Europe dominated the global market in terms of volume and revenue in 2016 and is expected to continue its domination over the years ahead. The demand for active calcium silicate from various application segments is propelled by a positive outlook from construction industry and presence of regulatory standards imposed by various regulatory bodies.
Several industry players have enhanced their market presence across the value chain by performing market expansion strategies such as partnerships, acquisitions, and capacity expansion. In addition, industry players are focusing on manufacturing active calcium silicate products within the regulatory framework to accommodate needs from various application segments. Promat International NV, Skamol A/S, American Elements Corporation, HIL Limited, Weifang Hong Yuan Chemical Co., Ltd., Johns Manville Corporation, Bee Chems, MLA Group of Companies, Ramco Industries Ltd., and 2K Technologies are some of the key players operating the market.

In-depth report on global active calcium silicate market by Grand View Research:
https://www.grandviewresearch.com/industry-analysis/active-calcium-silicate-market