Industry Insights
The global industrial enzymes market size was valued at USD 4.62 billion in 2015. Growing product demand in food & beverage, nutraceutical, and textile applications is likely to be the key factor augmenting market growth. Enzymes are macromolecular biological catalysts, which assist in numerous metabolic activities that help maintain and encourage life. These catalysts are highly selective and can accelerate specific metabolic reaction speeds, right from food digestion to DNA synthesis in the human body.
The global market is expected to witness significant growth in nutraceutical applications due to rising demand for digestive and nutritional enzymes. Increasing product usage in manufacturing detergents due to its properties, such as superior stain removal and ability to use in low temperatures, is expected to drive the market over the forecast years. The compound used in animal feed products increases the digestibility and nutritional value of the feed and provides improved sustainability for aquaculture.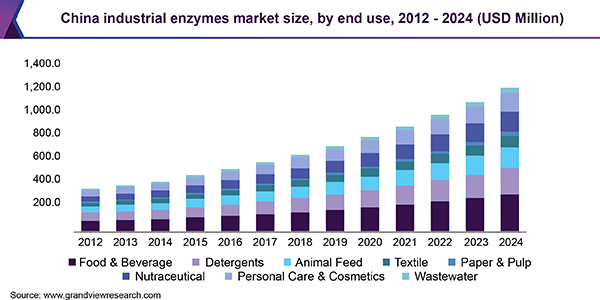 Enzymes are used in numerous eco-friendly industrial activities due to features, such as efficiency, selectivity, and speed of chemical reactions by creating transition state complexes with substrates that reduce the energy of the chemical reaction to a considerable extent. Food enzymes find a wide scope of application adoption in baking products, winemaking and brewing, fruit juices, and cheese production.
This is expected to drive the demand in the food & beverage segment over the forecast period. Increasing demand for personal care products and cosmetics, such as skin repair creams, toothpaste, mouthwashes, and whiteners, is expected to boost market growth. Biofuel production, cleaning agents for detergents, leather industry, textile manufacturing, chemical industry, animal feed, and fuel production are some of the other application areas.
End-use Insights
The food & beverage segment accounted for the highest market share in 2015. Food enzymes enhance the shelf life and quality of products while reducing the overall costs, which has driven their demand. Thus, increasing product use for baking, winemaking, and in food processing is expected to boost the segment growth. Governments across the globe are incentivizing the adoption of biofuels to substitute fossil fuels and non-renewable sources of energy, which is projected to boost the market growth in the coming years. The personal care and cosmetics segment is expected to witness high growth owing to superior moisturizing content offered by the industrial enzymes.
In addition, the compound enhances the quality and properties of toiletry products and helps reduce the use of chemicals in cosmetic preparations. Increasing product demand in the textile industry in manufacturing fabrics for clothing, furniture, and other household items is expected to drive the segment growth. Furthermore, product usage in bleaching, refining, de-inking, and removal of adhesives is projected to boost the segment growth. Recent developments in the biotechnology sector, specifically in protein engineering, are also expected to drive the industrial enzymes market growth.
Application Insights
Based on application, the industrial enzymes market is divided into technical, feed additive, and food processing. The technical application segment led the market in 2015 and accounted for over 48% of the global share. Increasing product usage for technical applications in paper & pulp, detergents, biofuels, organic synthesis, and textile industries is expected to drive the market. Enzymes for feed additives are expected to witness an increased demand owing to its rising use in the industry as supplements. These enzymes enhance the nutritional value of the feed and aid in digestion by breaking down complex molecules. However, the demand can be restrained by the regulations mandated by national governments.
Product Insights
Carbohydrase was the largest product segment in 2015 and accounted for over 46.0% of the overall revenue share. Increasing product demand in the food and beverage industry in the production of a variety of sugar syrups and prebiotics is expected to propel segment growth over the projected period. Carbohydrase consists of cellulose, amylase, pectinase, and lactase. The protease segment is expected to witness significant growth at a CAGR of over 8.0% from 2016 to 2024.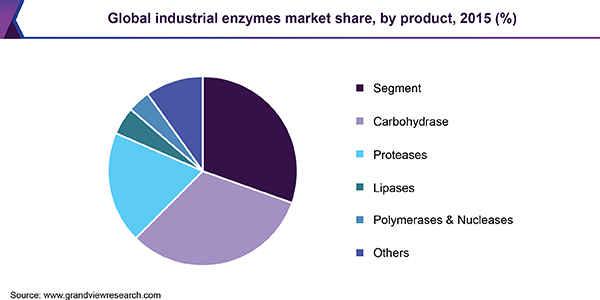 Protease is a catalyst used in the process of proteolysis, which is primarily a dairy industry enzyme, while lipases is a catalyst enzyme that accelerates the hydrolysis of lipids and fats. Growing usage of protease in the detergent industry is expected to drive segment growth. However, its application in the detergent industry is saturated, particularly in the developed economies. As a result, rising use of proteases in pharmaceuticals applications is expected to drive demand in these regions.
Regional Insights
North America accounted for over 34.0% share in the past and is expected to be a key region owing to rapidly expanding food processing industry in the U.S. and Canada. Other factors driving the regional market include increasing product usage by the nutraceutical, textile, and cosmetics industries in North America. Asia Pacific is expected to witness the highest CAGR of over 10.0% over the period owing to rapidly developing food processing industry.
Furthermore, rapid industrialization in countries, such as China, Korea, Thailand, Japan, and India, is expected to bolster the product demand in cosmetics, leather, paper & pulp, and wastewater treatment applications. Europe is also expected to witness significant growth in the coming years owing to rising substitution of petrochemicals with enzymes in textile, leather, food & beverage, and personal care industries.
Industrial Enzymes Market Share Insights
The key companies in the market include BASF SE; Associated British Foods PLC; Koninklijke DSM N.V.; Novozymes A/S; E. I. Du Pont De Nemours and Company; Adisseo France SaS; Codexis, Inc.; Dyadic International Inc.; CHR. Hansen Holding A/S; and Amano Enzyme Inc.